Playmobil's Water Park Toy Is Part Endless Summer, Part Science Lesson
This mini water park encourages open-ended play and puts toddlers in charge.
by Donna Freydkin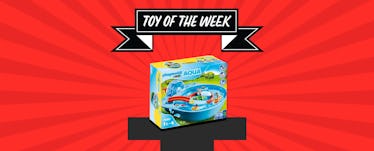 toysthe crank to get the water flowing and thus create a lazy river for the Playmobil mini-figures, baby octopus, boats, rafts, and more. National Association for the Education of Young Children, water play is an essential sensory experience. Water is also a natural STEM toy: When kids dump buckets of water into something, they begin to grasp the concept of volume and greater-than and less-than. They see what objects sink, what objects float, and why certain things, like plastic animals, move in certain ways. It's also a wonderful way for multiple kids to play together.
It's not a gaudy toy. It's not a loud toy. It doesn't offer kids a world neatly synced up with the release of the latest Marvel or Disney blockbuster — it's just hours and hours of skills-boosting fun for young kids. And that's precisely why we like it. It combines a few things kids love: Water, stuff that moves, and motion. It's a simple toy, meant for older toddlers and preschoolers. Plus, kids can add in their own water features, in the form of measuring cups or spoons or whatever else won't get ruined, to create waves or obstacles or even make their own water slides.
Splashing around with Playmobil's DIY water park lets kids dive into understanding cause-and-effect while having a ton of summer fun throughout the year.
Every product on Fatherly is independently selected by our editors, writers, and experts. If you click a link on our site and buy something, we may earn an affiliate commission.
This article was originally published on