PlayStation 4 Update Adds Parental Controls That Limit Kids Gaming Time
'Play Time Management' will allow parents to set limits on the amount of time their kids spend gaming.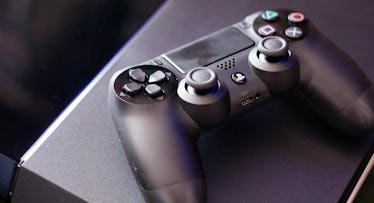 Flickr / Farley Santos
A new software update from Sony for the PlayStation 4 includes a parental control feature called Play Time Management, which allows parents to limit the amount of time their kids spend playing video gaming. Through Play Time Management, parents can designate themselves as Family Managers and control which specific video games they are and are not allowed to play, and for how long. The new Play Time restrictions can be set directly from the PS4 or through the PSN network, where parents can also track their kid's gaming habits using their smartphone.
RELATED: The Best Tablet Games for Kids
To make sure your kid's game doesn't unexpectedly cut off just as they are about to reach a new level or slay a final boss, Play Time Management gives players a warning when their designated gaming time is running low. That way, they can wrap up whatever they are doing before their time runs out, hopefully preventing any epic tantrums or meltdowns. Along with Play Time Management, the new System software update 5.50 also includes changes to the system's interface, a supersampling mode that will make games look sharper on 1080p TVs, and the ability to add custom wallpapers.
As video game addiction becomes an increasingly common problem for children, parents are left wondering how to curb their kid's habits and keep them from becoming too attached to their virtual worlds. For the most part, companies like Sony have stayed out of the way when it comes to helping parents limit video game use, but Play Time Management shows just how real these concerns have become. Hopefully, other companies will follow suit and help video games remain a fun way for people of all ages to spend time, instead of an addiction that further disconnects kids from reality.
This article was originally published on