The Benefits of a Pikler Triangle, According to a Child Development Expert
It's a beautifully simple developmental toy.
by Donna Freydkin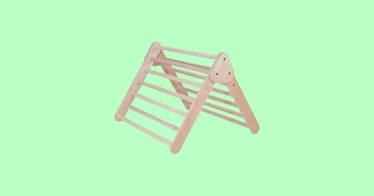 A Pikler triangle, in case you missed the latest craze in toddler gear, is not something you learn to play in band camp. In fact, it's one of the most beautifully basic toys you can buy for your intrepid walker. The Pikler is a toddler climbing toy that can be a safe and controlled foray into what child development experts call "risky play."
To clarify: Kids are not actually playing with matches or knives. But they are testing their own skills in unfamiliar settings.
"Risky play describes play experiences that challenge children's skills, potentially even to the point of failure," says Rebecca Parlakian, the director of programs at Zero to Three, a non-profit focused on early childhood development. "But we know that it's through failing that children ultimately succeed, by trying again and again to master new skills."
Basic as the Pikler seems, the benefits are anything but. "Mastering these risky play experiences builds children's self-confidence and self-esteem. The Pikler triangle also invites children to climb, which strengthens gross motor skills, motor planning skills (what steps are needed to reach a physical goal), and spatial awareness (where one's body is in relation to other objects). Because the Pikler triangle is open-ended, it also can encourage imaginative play."
Meaning, kids can throw a blanket on it to build a fort, or use it as they would a tunnel. And because it always bears repeating: The Pikler triangle is a climbing toy, and kids fall off climbing toys. So always place it on a soft surface, ideally with padding, and supervise kids as they play.
Every product on Fatherly is independently selected by our editors, writers, and experts. If you click a link on our site and buy something, we may earn an affiliate commission.
This article was originally published on