The Philips Pasta Maker Is the Best Thing I Ever Bought
Parents, let me tell you, this was the single greatest kitchen investment I ever made.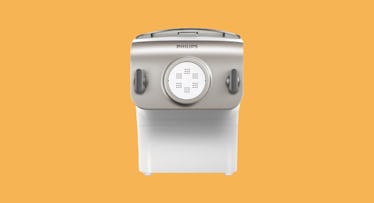 My Philips pasta maker is the best way to make homemade pasta whenever I so desire. And if you're wondering how to make pasta, this is your answer.
But first, let me backtrack. What Marie Kondo is to the brutal art of paring things down, I am to the glories of consumption. I love to shop. I buy so much shit, especially for my tiny kitchen, that I sometimes wonder if I ordered stuff while totally blotto. A spiralizer? I have two, neither of which I ever use. A wine decanter? But of course, even though nothing has ever been decanted in it. A pressure cooker? Please, don't even insult me by asking, because of course I got the most expensive one, used it exactly once to make overcooked stew, and stashed it somewhere in a cabinet to gather dust for all perpetuity. I once opened a drawer, shocked to discover I had not one, not two, but three cheese knives. The list goes on and on.
Suffice to say, AmEx and I have been on something of a break for a while. But not before I made one final epic purchase. Maybe it's because my kid has always been a beast of a persnickety eater. Perhaps it's because I got tired of every meal turning into a Battle of the Blackwater. But kids love pasta. I love pasta. Dried pasta tastes like socks soaked in sauce. So I invested in the Philips Kitchen Pasta and Noodle Maker, which at the time set me back $350. And parents, let me tell you, this was the single greatest kitchen investment I ever made.
The Philips Pasta Maker
First off, all you need is a measuring cup (provided), eggs, water, and flour. You measure the flour using the measuring cups because specificity is key here. You dump the flour into the pasta maker and close it. You then use the other measuring cup to add a blend of eggs and water. You dump that into the pasta maker using the slots at the top of it. You turn it on. And like a waterfall of goodness, pasta starts pumping out. Spaghetti. Tagliatelle. What have you. It comes out fresh. It comes out golden. And it's ready to cook.
As for the pasta itself, yes, you can trick it out with pesto or porcini mushrooms. But trust me when I tell you, it stands on its own, proud and flavorful, unlike any pasta you've ever purchased in a store. It is to its pre-packed bastard step-cousins what Hermes is to Aldo. There's just no comparison. But if you'd rather make your linguini with clam sauce another day, never fear. Just store it (I like to wrap mine in wax paper first) and it will last you a week in your fridge before you need to cook it, add a little olive oil, and buon appetito.
Oh wait, you're gluten-free, you say? Throw me a tougher challenge, please. Use Thomas Keller's Cup4Cup gluten free flour with the same measurements you'd use for regular pasta and you wind up with equally delectable noodles. Ask my friend Lisa. She is addicted.
Cleaning this thing is its only drawback. You have to unscrew the top panel, take out the insides, and wash them. Then you insert everything back in. It takes only minutes, yes, but I do wish you could somehow circumvent the process because I'm lazy as shit. But as a true pasta lover would say, that's just sauce under the bridge.
Every product on Fatherly is independently selected by our editors, writers, and experts. If you click a link on our site and buy something, we may earn an affiliate commission.