Great Art You Can Really Relate To
Family photos suck. This website turns them into portraits fit for royalty.
by Sal Vaglica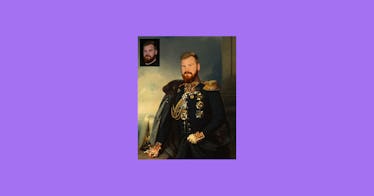 While art is largely a matter of taste, it's safe to say that if you're featured in the artwork, it's instantly great — and makes it more fun for just about everyone. If you've ever fantasized about galloping into the breach or kicking back on an Old World throne, Bobdeus has the answer: You send them a digital photo and choose how you want it re-created as a historical portrait. Want to see your head on the body of a once-great king or a stately general? Or perhaps a priest during the Renaissance or some random French guy who looks like he might have been a Musketeer? You decide.
Once you submit a digital headshot, Bobdeus will send you a proof to sign off on. Then you'll receive a personalized historic portrait any way you want: digital-only, on a ready-to-hang canvas, up to 24 x 30 inches, or as a framable poster, up to 18 x 24 inches. And it's not just for you — the portraits are affordable enough to make great gifts, and the whole family can get in on the act (even pets), with up to seven faces per portrait.
Every product on Fatherly is independently selected by our editors, writers, and experts. If you click a link on our site and buy something, we may earn an affiliate commission.