6 Ways To Help Parents Safely Store Their Weed
Keep your bud out of tiny hands with these innovative storage containers.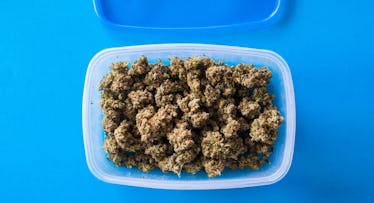 For parents who indulge in a little medicinal or recreational marijuana every now and then, keeping it out of sight and reach of children is priority number one. While an Altoid tin on the top shelf used to be just fine, now you need something with a real lock and some added security ⏤ kids are, by their nature, curious creatures.
The good thing is that as cannabis becomes more available for moms and dads, so too have safe storage options to keep said stash away from young hands. Today's boxes and medicine bags come in all shapes and sizes and range from cheap, common-sense containers, to elaborate and (occasionally) expensive innovations. But all that really matters is whether it has a lock and/or is designed to be childproof. And with that simple goal in mind, here are six worth considering.
GUNNERN Lockable mirror cabinet
This lockable, IKEA medicine cabinet isn't for weed specifically, but it's a practical option for safe cannabis storage in the home. Like a regular medicine cabinet, you can mount it out of reach of tiny hands, and it has multiple shelves to keep your sativas and indicas organized. The lock and key offer added security when kids are tall enough to start opening cabinets.
Fireproof, Rip-Proof Lockable Bags Medical Bags
Lockable medical bags are fire, smell, and rip-proof, and offer a solid option for transporting pot, Propecia, and candy you don't want to share with others while high. They come in all colors and sizes and run around $20. Even better, it's still secure even if you accidentally leave it in the diaper bag — although your nanny may have a few questions.
Medtainer
The Medtainer is an inexpensive portable medicine container with a built-in grinder. It's airtight, watertight, and billed as certified child-proof ⏤ although it's important to realize that there's no official oversight when it comes to weed-container certifications. If you have older kids, be smart and get something with an actual lock.
SneakGuard
On the higher-end of safe storage, the SneakGuard is less for the occasional smoker who needs a tiny tin than for a cannabis connoisseur who wants to store buds in an impenetrable, airtight, vacuum-sealed, humidity-regulated metal safe. It's as hardcore as it gets. In addition to being difficult for little hands to unscrew, it also boasts a four-digit combination lock.
The Cannador
Both a fancy lockbox and a play on the humidor, the Cannador has a built-in humidifier to keep multiple strains of weed locked, stocked, and fresh for several months. It's not cheap at $129, but this Maserati of marijuana storage is made of several layers of wood (cherry or walnut), keeps the smell in, and includes four glass cups, each of which holds .5 ounces (or up to .75 ounces ground). Cooler still, for an extra $60 you can add a Bluetooth hydrometer.
Tackle Box and a Lock
It might be old fashioned, but you don't have to buy into cannabis industry trends to keep your greenery away from the kids. Ultimately you just need something that locks, and this heavy-duty 14-inch dry box does just that. It's water resistant, has thick, crush-proof sides, and is bright orange to ensure you never misplace your weed. Plus, it only costs around $15.