The Pampers Lumi Diaper Monitor Tells You When Your Baby Pees
Pampers is going all in on the pee-tracking game.
by Donna Freydkin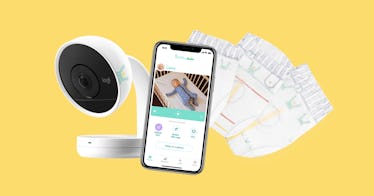 Let's imagine you're the kind of parent who is desperate to know the nanosecond your baby has a soiled diaper. Perhaps you're into staying abreast of every single ounce of milk or formula your infant sucks down. Well, the Pampers Lumi system, which includes a pee-and-poop and sleep-tracking diaper sensor, is here to fuel such neuroses.
The Lumi system, which is set to arrive this fall, is billed as the the world's first all-in-one connected baby care system. It consists of a diaper-based sensor, baby monitor, and two pairs of specialized diapers that have a larger version of the blue-when-wet diaper strip. Together, the system works in tandem as a complete infant tracking system, keeping tabs on everything from the amount of times your baby pees or poops to its sleep patterns, and pushing it to the Pampers app so you can have a record of every toss, turn, and tinkle.
The Lumi diaper sensor, which is about the size of a quarter, goes on the the outside of the diaper. It tracks diaper wetness so there's no seemingly no need to do the pat-the-diaper-on-the-butt soothsaying to understand when the diaper is wet, and sleep.
The Lumi is a partnership between Pampers, Google science research subsidiary Verily, and Logitech. The latter of which is where the video monitor comes from. It tracks the baby at night, also feeding information into the Lumi app, and lets you see your baby from anywhere. The monitor has an 1080p wide-angle HD lens with night vision and two-way audio. It also tracks room temperature and humidity, to ensure that your lucky offspring is sleeping in optimal comfort.
How's this system different from all the other smart baby monitors out there? Fair question. We don't know yet. But it's certainly another stab at gamifying every aspect of an infant's life and giving concerned parents a bunch of data to pore over and assess. Plus, the fact that it's all centralized is intriguing.
Parents who want to give the Lumi system a go will get the HD video monitor, two activity sensors, and two packs of Lumi by Pampers diapers, the latter of which are the only ones that work with the sensor. The price for the bundle is not available right now, but we're guessing it won't be cheap. You can sign up for the Lumi's wait list here.
Every product on Fatherly is independently selected by our editors, writers, and experts. If you click a link on our site and buy something, we may earn an affiliate commission.
This article was originally published on