This Wide-Eyed Flying Owl Is a Cross Between a Robotic Toy and a Drone
No joke, this owl is a hoot.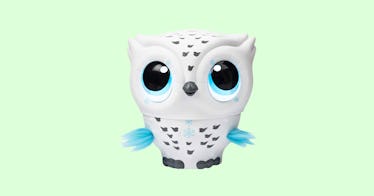 If in the magical land of toys, a robotic pet mated with a mini drone, you'd wind up with the Owleez flying toy. The concept is so bizarre that it's actually downright brilliant, and if you've been searching for that perfectly cool-but-cute 11-year-old birthday gift, this might just be your unicorn.
Owleez, with its wide eyes, looks like an offspring of the L.O.L. Surprise! family of toys, with a splash of Hatchimals nurturing thrown in for some added oomph. As with Hatchimals, this thing doesn't just provide instant gratification. Nope, your kids have to work for it by caring for the creature.
First, kids take care of the little owl, until she grows acclimated to her environment. They feed her. They pet her. They talk to her. And then, as you might guess, she leaves the nest. You know the bird is ready to let it rip when her head rises up off her neck and her eyes light up. And then, off she goes, into the air. The little owl soars, and sometimes she crashes. So make sure she only flies indoors.
She enjoys long walks on the beach and dreamy sunsets (we kid, we kid), as well as being petted, tickled, rocked to sleep, and being fed when she's hungry. She responds to touch and sound. Plus, she lets you know her mood by changing her eye colors.
The critter stays charged in her nest, with a USB. She's great for kids six and up.
Every product on Fatherly is independently selected by our editors, writers, and experts. If you click a link on our site and buy something, we may earn an affiliate commission.
This article was originally published on