The Little Tikes Outdoor Baby Swing Is Here to Save Your Summer
It's the plainest and plastic-iest one out there. It's also the best.
by Donna Freydkin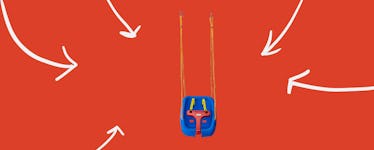 Of all the baby gear I got when my son was born, nothing served us with the steadfastness of the hardy Little Tikes swing. It was a backyard swing set purchase borne out of necessity: We were foolishly spending the summer with family in Texas, where it's around 101 degrees on a good day and humidity levels leave you drenched in seconds. Pools were not infant-friendly, anyway. Our baby was 10 months old and perpetually on the move. We needed an outside baby swing just to have something to do with him in our yard, in the shade, that required minimal effort from us.
The swing went against all the ideals I'd had, like that my child would only play with wooden toys that were ethically manufactured, were neutral in color, and blended seamlessly with textures found in nature. But then, the price was right. The reviews were ecstatic. So, we got it — and never looked back.
Our son and the other kids loved to kick their legs as they swerved and swiveled back and forth while suspended in the air. The thing was the breakout hit of the summer — and several more summers after that. Babies as young as 9 months can swing in it, but so can kids weighing up to 50 pounds, which means it gives you several years of play.
The Little Tikes swing is no design showpiece. It is not an architectural statement for your yard: It's bright red-and-blue plastic. What it is, however, is eminently practical and utterly indestructible. We got a version of this swing back in 2011. It hangs in the yard to this day, and my son's 2-year-old cousin now merrily swings in it.
It's also smartly designed: adjustable straps and a T-bar, which rotates down for easy in-and-out, hold the baby in place. When the kid is bigger, the straps and bar can be removed and it converts into a toddler swing. The ropes (which can be attached to hooks or a swing set) can then be adjusted to make the swing recline more. And best of all, because it's made of plastic, you hose the damn thing down and it's clean. If only they made one for adults.
Every product on Fatherly is independently selected by our editors, writers, and experts. If you click a link on our site and buy something, we may earn an affiliate commission.
This article was originally published on