Stock Up on the Best Baby Onesies, Because You'll Go Through a Ton of Them
Diaper blowouts are your new normal.
by Elizabeth Alterman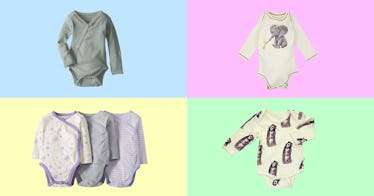 Before your newborn actually arrived, you probably entertained fanciful notions of dressing him or her in delicate, hand-woven cashmere baby bodysuits that would play well on Instagram. And then you encountered your first diaper blowout, and realized the urgent need for practical, essential, and easily-washable newborn onesies. Your infant will live in them. Stacks and stacks of them. The best baby onesies and bodysuits are the soft baby clothes you'll end up using 24/7, once that dry clean-only romper is but a distant memory.
Buy onesies in small numbers, and buy larger, because babies seem to double in weight seemingly overnight. Opt for soft fabrics which feel good next to delicate baby skin. And since tags can irritate baby skin, tagless options are a good choice, too.
Because you'll be doing clothing and diaper changes on the fly, and in the middle of the night, make sure the onesie is easy to put on and take off, which means it should have snaps or zippers, whichever you prefer. And crotch-snaps are essential for easy access to soiled, nasty diapers.
Every product on Fatherly is independently selected by our editors, writers, and experts. If you click a link on our site and buy something, we may earn an affiliate commission.
This article was originally published on