Where's the Beef? Beloved Hot Dog and Bun Toaster Is On Sale Today
It's simply the fastest and easiest way to cook a great dog.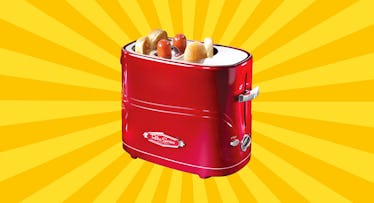 From flat-top griddle to dirty water boiler to charcoal grill, there's no shortage of ways to cook a hot dog. There's also plenty of room for debate about which method is best, but for busy parents, the more important factors are ease and speed of use. On those counts, the choice is clear: a dedicated hot dog and bun toaster is the easiest, fastest way to make the classic American sausage.
The Nostalgia Retro Pop-Up Hot Dog toaster is one such magical device. It's about the same shape and size as a regular toaster with a couple of key differences. Instead of slots that fit a standard piece of bread or bagel half, this toaster has two semicircle-shaped openings that accommodate unfolded hot dog buns and, between them, two round openings that accommodate the wieners themselves.
See more: All the Amazon Prime 2019 Deals You Need To Know
A simple knob on the side lets you adjust the heat level before you press down the lever to start cooking. If you need to stop heating early, there's a button for that too.
More Amazon Prime Day 2019 awesomeness: Save Big on This Electric Wheelbarrow, The Outdoor Workhorse You Didn't Know You Needed
The hot dogs fit into a metal cage that's easily removed from the toaster itself. Like the drip tray at the bottom of the unit, it's easy to clean. This toaster also comes with tongs for smooth dog to bun transfers.
It seems like kind of a silly purchase — and maybe it is! — but this toaster also has an impressive four-star average rating on over 2,000 Amazon reviews. And if you're tempted, today's the day to pull the trigger. You can save a few bucks if you take advantage of a Prime Day sale and pick one up today.
Every product on Fatherly is independently selected by our editors, writers, and experts. If you click a link on our site and buy something, we may earn an affiliate commission.
This article was originally published on