The Nintendo Switch Lite is Perfect For Gaming On the Go
Its cheaper and lighter, for starters.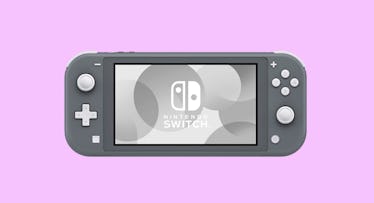 The Nintendo Switch Lite is smaller and cheaper than its older sibling, and it's here to make your time indoors somewhat more palatable. Because this is when any rigid screen-time rules really don't matter anymore. It's a purely handheld device that's ideal for gaming on your couch, in your yard, or in your bed.
While Microsoft and Sony engage in an endless arms race to have the fastest console with the best graphics, Nintendo seems more interested in innovating how people interact with their games. A boundary-blurring hybrid of a TV and portable console, the Switch comes with detachable, bifurcated controllers, crazy fold-it-yourself cardboard attachments, and, of course, plenty of other controllers and accessories. The brand-new Nintendo Switch Lite has the same mission as its progenitor—to give people more ways to enjoy video games—but it goes about it in a different way.
As its name suggests, it weighs just .61 pounds, 30 percent less than the original Switch. Its touchscreen is 5.5 instead of 6.2 inches, and its body is also smaller: 3.6 inches tall instead of four and 8.2 inches long instead of 9.4. These might sound like minor changes, but every milligram and millimeter makes a difference with something that's meant to be carried around and held.
That brings us to one of the most important differences between the Switch Lite and the Switch: how you can play it. Where the original Switch could be plugged into a TV, the Switch Lite cannot. It's a purely handheld gaming machine, which means it's not compatible with Nintendo Switch games that don't support that gaming style.
There are a few other tweaks, like a full D-pad, slightly improved battery life, and the omission of a kickstand and automatic brightness sensor. One thing people will likely miss are motion sensors that are an integral part of some games. You can purchase a pair of Joy-Con controllers separately, but that's a hassle, to say the least.
Still, it's cheap. It's portable. So that makes up for it.
Every product on Fatherly is independently selected by our editors, writers, and experts. If you click a link on our site and buy something, we may earn an affiliate commission.