The Newest Fingerling Is a Glowing Unicorn Named Mackenzie
If you're a Prime member, you might want to take a look at this.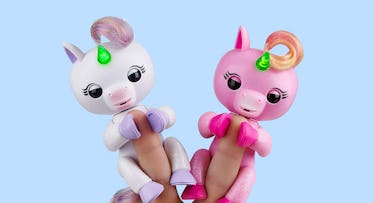 Brace yourselves: a new Fingerling is coming. On Amazon Prime Day, Amazon's 36-hour mega-sale that begins this Monday, Wowwee is releasing the Mackenzie Unicorn Fingerling. That's right, the latest of the finger-grabbing toys is a glow in the dark unicorn, so it's pretty much guaranteed to end up on your kid's wishlist.
Wowwee Fingerlings were the hottest of hot holiday toys and continued their dominance this year. Fingerlings are interactive, brightly colored, and collectible. They were released last month by WowWee and come in six different-colored characters (Zoe, Mia, Finn, Boris, Bella, Sophie), each with fun-fact backstory. For example, Boris likes to laugh and Mia has an insatiable curiosity. You get the idea.
The big sell with the Tamagotchi-like baby creatures, however, involves their moderately sad tagline, "Friendship at your fingertips." They're designed to react to sound, motion, and touch. Pet their fuzzy mohawks, and they'll coo and blink. You can blow them kisses, rock them to sleep, hang 'em upside down, whatever. In fact, clap twice and they'll sing you a damn song — they make 40 different sounds. Including burping and farting!
To keep demand high, Wowwee consistently releases different types of Fingerlings, their most recent being their dinosaur set in the "UNTAMED" series, which comes with a ton of different colored dinosaurs that make dinosaur noises and still give hugs.
Mackenzie, who will make her debut Monday, is not the first unicorn Fingerling. It is, however, the first one that glows. She also lights up and has both a flashing horn and a beautiful mane that kids can brush and style. She makes unicorn specific sounds (horse sounds?) and, like all Fingerlings, she blinks, turns her head, and if you blow her a kiss, she'll return the favor.
If you want to get Mackenize for your kid, get on Amazon at 3 p.m. on July 16th. As a part of Prime Day, Mackenzie is only $18, and if you're not a Prime member, you'll have to wait to buy Mackenzie until September 1st. Good luck.