Brio's New Smart Train Set Is a Brilliant Evolution of a Classic Toy
It's the ideal combination of technology and nostalgia.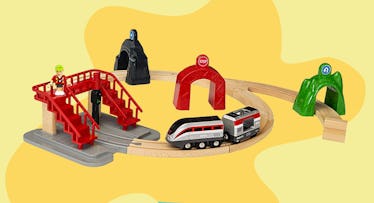 There is no pleasure as divine as a train set to a young child. There are tracks. There's a train. The train goes on the tracks and all the world is a joy. As a boy, I remember well my train set, a wooden one from the Swedish toy company, Brio. Simple to the point minimalist, these wooden tracks boasted an intuitive interlocking system even I, with my limited fine motor skills, could master. The simplified forms of the trains themselves — in bright colors and stripped of detail — were visually appealing and little changed since they were introduced in 1958. The set was an invitation to imagination.
A Brio train set was one of the first things I bought my sons that they've actually played with. It exists in the narrow golden ellipse of the Venn Diagram between Shit I Want My Kids to Play With and Shit My Kids Actually Want To Play With. Earlier this year, the company introduced a new version of an old classic called the Smart Engine Set With Action Tunnels (Action Tunnels!). And it's exactly the type of small update that makes the classic so much better.
The Brio Smart Engine Set with Action Tunnels is a 17-piece set that boasts an electric train, wooden track, elevated walkway, and a trio of plastic bridges. The train and each bridge have smart internal tech that allows them to interact. Each color-coded bridge has a specific action associated with it: choo-choo, reverse and stop. Once the train passes through a bridge, it will perform the action. Brio also sells a number of other modern add-ons such as smart washing stations and track switchers that also correspond to the trains.
Opening the box, I was a wee bit nervous Brio might have fallen for the old "take a good thing and screw it up" trap so many toy companies fall into in their race to remain relevant. Is there an app? Do I download something? Do I take a picture of the train, Instagram it, hashtag it #brio, then use Facebook to track its location?
Happily, the answer is no. The battery-operated train is so easily operated a three-year-old could do it. (Seriously, it's recommended for three-year-olds and up.) The track is the same as previous models. This is itself a generous act. And the tunnels are simply placed astride it. Set up took me all of 30 seconds.
The train itself moves with, well, brio, powered by three buttons atop it. One goes forward, one choo-choos, and one reverses. But as the train made its way briskly around the track, I chortled in my joy as it obediently bade the commands of the tunnels under which it ran. It stopped. It reversed. It let out a joyous choo-choo, that brought the lazy afternoons of my youth flooding back and will fill the lazy afternoons of my own brood too.
So many beloved toys lose what made them special because companies try to modernize them by shoving apps and QR scanners inside them. Brio elevated the train by using a little bit of modern tech to make the set do what it's always done just a little bit better.
This article was originally published on