My Loopy Is a Robot That Burps, Jokes, and Grows Smarter With Your Kids
It packs artificial intelligence, a variety of sensors and plenty of fun and games into a three-inch tall package.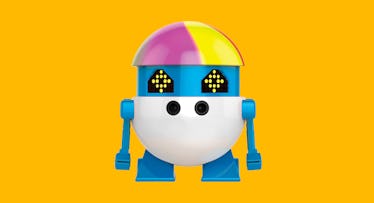 Few buzzwords are buzzier in education than STEM. And there's an entire industry of toys designed to help kids succeed in learning the new landscape. Many of those toys are robots. because robots have been getting kids excited about technology for years. Also, robots are cool. And one of the more exciting newcomers to this already crowded market is My Loopy, who teaches kids STEM but also burps, jokes, and grows smarter as the days go by.
My Loopy's creators point to two factors that separate it from the competition. One, My Loopy can be used without an app. They argue that robots that depend heavily on an app-based interface end up being used as simplistic remote control toys. The app can be a distraction from actually playing with the robot. Two, My Loopy is designed for kids from 4 to 6-years-old, a younger age range than most robotics toys.
Out of the box, My Loopy doesn't have much of a personality. It doesn't even really speak English. The more play it experiences, the more language it can speak and games it can play. There are four predefined personality levels through which it moves, but even when those are complete it changes its behavior based upon how it is played with. What doesn't change? Its immature sense of humor: My Loopy burps, farts, and even busts out some dad jokes.
My Loopy communicates with children with dot matrix eyes (capable of 24 different expressions) and six RGB LED lights on its head. Seven sensors — touch, motion, tilt, light, sound, temperature and proximity — allow My Loopy to react to how kids play with it. They can choose from five different games to play with My Loopy or have a dance party complete with a light show.
While My Loopy can be used without an app, the app currently in development will transform the robot from a simple toy to a teaching tool. The app introduces kids to basic coding skills by letting them drag and drop different commands for My Loopy to execute. Using this interface, kids can teach it new skills, control the color of its LED head and unlock new games. Older kids can use Python and Javascript to code My Loopy.
To accompany the app, the creators of My Loopy are also selling a curriculum with lesson plans that allow teachers to use My Loopy and the app to teach STEM concepts. The curriculum is a big priority for the inventor of My Loopy, Dr. Pramod Abichandani, an assistant professor of engineering at Drexel University.
My Loopy is still in the early stages of a Kickstarter campaign, so it remains to be seen if it can carve out a niche in the difficult marketplace of robotic, STEM-teaching toys. You can back it here.
Every product on Fatherly is independently selected by our editors, writers, and experts. If you click a link on our site and buy something, we may earn an affiliate commission.