What Cool Moms Want For Mother's Day, According to Cool Moms
For stylish moms with street cred, not any Mom's Day gift will do.
by Alexis Barad-Cutler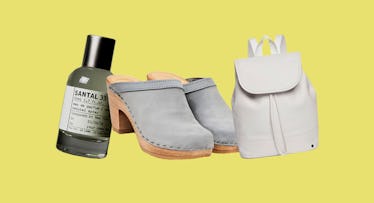 A fancy scented candle or picture of the kids in a nice frame is a perfectly lovely gift for a lot of moms. Few would freak out on their partner for the thought. But if the woman you're celebrating this Mother's Day is someone Amy Poehler in Mean Girls would call, "not like a regular mom" but a "cool mom," then you may have some work to do.
You don't have to worry though. We already asked a whole bunch of moms who we consider cool ⏤ laid-back moms who know when its OK to break the rules, are tapped into current trends, and who appreciate Mother's Day gifts that are a little more off the beaten path ⏤ exactly what they'd love to get this year. And here's what they said.
RELATED: The Best Mother's Day Gifts for New Moms
Charlotte and Asher Diaper Bag
The un-diaper-bag of diaper bags, the "Gabrielle" by Charlotte and Asher is stylish enough that it can go from playground to work to Des Moines for business without raising an eyebrow. Yet it's still fully functional and loaded with room for swaddles, diapers, pacifiers, and more. Every bag purchase helps a child in need receive 5 life-saving vaccinations.
Why a Real Cool Mom Recommends This Mother's Day Gift: "This diaper bag fits literally everything you own and holds its shape so you can always find said items again. It makes you feel like a cool Mary Poppins." ⏤Sarah, 31
Going Into Town: A Love Letter To New York By Roz Chast
Celebrated New Yorker cartoonist and bestselling author Roz Chast's illustrated graphic memoir and tribute to New York started out as a personal guidebook to her college-bound suburban daughter, but it became something much bigger. It's a heartfelt and hilarious celebration of what makes New York City such a unique, inspiring, and sometimes baffling place to live.
Why a Real Cool Mom Recommends This Mother's Day Gift: "I adore Roz Chast. Her humor and perspective make everything she writes a joy to read. Plus, I don't have the time or patience for lengthy/deep reading right now, so this is perfect!" ⏤Brianna, 37
Pull-Through Chain Link Earrings
Tokyo-based designer Hirotaka's minimal-yet-edgy style is well known among editors and stylists across the globe. From split-bar earrings to ear jackets, you'll find unique pieces that push the boundaries of traditional high-end jewelry design. These yellow-gold earrings ⏤ with their cultured white pearls and punk-inspired pull-through chain link that threads the ear ⏤ are the perfect balance between Mother's Day elegance and cool mom vibe.
Why a Real Cool Mom Recommends This Mother's Day Gift: "I love getting jewelry for Mother's Day because I feel a bit weird buying nice, that is expensive, jewelry for myself. And I really love the simplicity of these Hirotaka earrings." ⏤Allie, 40
A Spa Massage
A real-deal massage from a low-key-luxe spa is a can't miss for most moms, cool or not. But Bliss Spa has locations in almost every major city and their online booking system makes setting it up a breeze.
Why a Real Cool Mom Recommends This Mother's Day Gift: "Last year I asked for a facial for Mother's Day but got really upset when I realized that extractions were part of the deal. This year, I'd like something more relaxing like a massage." ⏤Jen, 35
Old-School Clogs
A fashion staple for moms who "literally just can't" with impractical shoes, clogs don't sacrifice style for functionality. They're as cute with everyday jeans as they are with an easy-breezy dress. These old-school clogs from No. 6 in black feature a 100-percent leather upper that softens over time and come in a classic year-round color.
Why a Real Cool Mom Recommends This Mother's Day Gift: "As hard as it is to justify asking someone to buy me yet another pair of clogs, I know I'll wear this pretty blue pair every day. That is, every day that I'm not wearing one of my other pairs of clogs." ⏤Jessica, 39
Handmade Portuguese Plates And Bowls
Each one of these wheel-thrown and hand-painted terracotta plates was made by two Portuguese brothers, Rui and Egidio, and are as beautiful as they are useful. Bowls measures 7-inches across while the Grand Plate is 11-inches, and they're all finished with a water-based glaze.
Why a Real Cool Mom Recommends This Mother's Day Gift: "I've had the same plates since our wedding, and even though I lust after new ones, I never seem to go for it. This set just makes me happy when I look at it." ⏤Lindsey, 36
State's 'Hattie' Leather Backpack
State's stylish backpacks are perfect for work, diapers, or just running around the city ⏤ with or without kids. The on-trend white leather 'Hattie' features a magnetic top-flap closure, spacious main compartment for everyday essentials, a small interior pocket, and adjustable straps.
Why a Real Cool Mom Recommends This Mother's Day Gift: "Last year, I got Mastitis on Mother's Day, so this year anything would be nice." (Editor's note: We think a cute backpack would be just the thing). ⏤Liz, 34
Together Necklace From Catbird
For the mom who already has a necklace engraved with the kid's names, this Together Necklace by Brooklyn-based and "cool girl"-favorite Catbirdnyc shows the strength of your bond. The two intertwined yellow-gold circles hanging from a delicate chain send a strong message: "We are better together."
Why a Real Cool Mom Recommends This Mother's Day Gift: "Catbird is on my list because I'm not a jewelry person, and their collection is very understated. It's jewelry for the woman who doesn't make jewelry a big deal or a featured part of her outfit, which is how I like it." ⏤Michele, 37
A Sensual Fragrance: Santal from Le Labo
This unisex scent ⏤ a favorite among the fashion crowd ⏤ has notes of leather, cedar, sandalwood, and musk. In fact, it's addictive enough that you may find yourself sharing. Each fragrance is hand-made in one of Le Labo's 'labs' and, if purchased from one of their brick-and-mortar locations or website, comes with personalized bottle label and box (up to 23 characters). Available in 15ml up to 500 ml.
Why a Real Cool Mom Recommends This Mother's Day Gift: "I'm all about anything that helps me feel sexy and empowered in my motherhood role. Santal from Le Labo helps me feel beautiful the second I put it on." ⏤Jenny, 38
A Throwback Cassette Player
Because, yes, they still do sell cassette tapes, this clear tape player with AM/FM radio from Urban Outfitters isn't just a novelty gift. Or, at least, it's not entirely a novelty gift. It features a belt clip and earbuds. Two 'AA' batteries and mixtape sold separately.
Why a Real Cool Mom Recommends This Mother's Day Gift: "When my daughter gets older I would love for her to create a playlist or mix-tape for me. Songs that she likes or thinks I'd like." ⏤Eugenia, 40
This article was originally published on