The Best Mother's Day Gifts Your Wife Will Actually Love
Put some creative muscle behind your choices.
by Donna Freydkin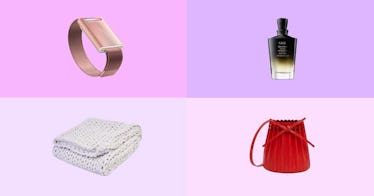 A good gift makes her smile with appreciation. A great gift is a reflection of how much she means to you. Think big picture. Make it something she'd never buy herself, something that's personal, beautiful, and dare we say, impractical. Because trust us that no one, regardless of what she may tell you, wants a blender or an air purifier. Or, for that matter, stripper lingerie.
A great gift is one that's carefully considered — intimate, thoughtful, and resonant. Yes, finding the best birthday or Mother's Day gifts from her husband (or partner) takes time. And yes, it takes effort. But that's all the more reason to put creative muscle behind picking out just the right gifts for your wife, especially if she's a new mom. And here's an easy tip: Whatever else you do, don't get her a bathrobe.
Every product on Fatherly is independently selected by our editors, writers, and experts. If you click a link on our site and buy something, we may earn an affiliate commission.