How to Buy Mother's Day Flowers for Your Wife
Some tips to keep in mind before you pick up that bouquet.
by Dave Baldwin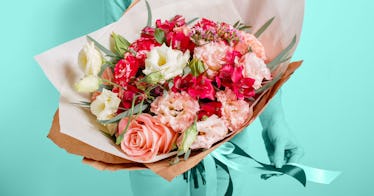 Ask random moms on the street if they want flowers for Mother's Day and they almost always say "no." Fail to buy flowers for your wife on Mother's Day, however, and you're likely to learn otherwise. It's not that moms don't want flowers, it's just that flowers shouldn't be the only sign of your love and appreciation. These days, a beautiful bouquet is more of a given than an actual gift ⏤ and a Mother's Day without them feels incomplete.
Buying the right Mother's Day flowers, however, takes skill. You can't just grab a bunch of carnations and all it a day. That's lame, man. And, no, you definitely shouldn't stroll into the gas station or bodega and grab the first plastic-wrapped bouquet you pass. Mother's Day flowers require some thought and planning to really nail. So, before you grab a Mother's Day, here are eight tips for picking out the most beautiful arrangement of flowers she says she really doesn't want.
What Do You Want The Flowers to Say?
If you still want to make color the focus, but don't necessarily want it to be her favorite ⏤ pick a flower/color based on its symbolic meaning. For centuries, there's been a special language for flowers and different colors often convey different (hidden) messages. For example, red roses convey desire, Violets signify faithfulness and devotion, and yellow Hyacinth represent jealousy ⏤ so best avoid those. The Old Farmer's Almanac goes into great detail on the symbolism of flowers, and it's worth a read before a trip to the florist.
Avoid Roses. Unless She Really Loves Roses
True, Mother's Day is as much about saying "I love you" as it is "Thank you for birthing my children," but that love is decidedly less romantic than on, say, Valentine's Day. Plus, few flowers convey a lack of effort like giving a bouquet of red roses ⏤ regardless of what your local florist says. You want her to know you at least put some thought into it. That said, if roses really are her favorite flower and she can't get enough of them, at least mix up the color ⏤ pink for Mother's Day is always nice.
Know Her Favorites
The easiest way to nail flowers, of course, is to know her favorites types ⏤ and to rotate them throughout the year. It doesn't matter how far out of the box you try to step with Hanging Lobster Claws, if she weirdly dislikes Heliconias than it's all for naught. So whether it's Daffodils, purple Hydrangeas, or wildflowers with a cool name like Indian Paintbrush, keep a running list for easy reference (and when you bought her each last). When Mother's Day approaches, what's next on the list. If you have no idea, there are still a few days to probe/drop hints as you drive past the local garden center.
Or At Least Know Her Favorite Colors/Fragrance
Don't know her favorite flower? That's okay. (Well, it's not, but in this case we'll let it slide.) Your second criteria is even easier: Her favorite color. Simply choose a type of flower or mixed bouquet in that color scheme. Unless it's carnations, in which case, guess again ⏤ you're not taking her to prom. Better still, select the flowers based on a fragrance she loves. For example, Gardenias emit a strong perfume scent while Hyacinth smell like spring.
Don't Shy Away From Potted Plants…
You know what's better than a beautiful bouquet of flowers? A beautiful bouquet of flowers that isn't dead in a week. Which is why a lovely potted plant makes a nice alternative. Tulips, Orchids, Lilacs are all striking options and can easily be planted in the yard either before or after Mother's Day. In fact, another nice small thing you can do for Mother's Day is to actually get outside on Saturday afternoon and plant it for her.
…Or Even Succulents
For the mom who may have a brown thumb but doesn't appreciate plastic plants, succulents and cacti are easy to maintain and look pretty damn cool. Not only that, but a number of companies, including Lula's Garden, sell gorgeous Mother's Day collections in elegant boxes.
Consider Lillies, Tulips, or Peonies
Honestly, you can't go wrong with any of the three for Mother's Day. Chrysanthemums are also nice. Not only are they all beautiful, vibrant, and seasonal ⏤ Peonies, in fact, are just coming into season around Mother's Day ⏤ but they're also a good value on a day when florists are known to jack up the prices. Plus, treat a Lily right and it will last forever, or at least up to a month.
Get a Nice Vase
If you buy flowers wrapped, wait until she's out of the house/room and put them in a vase. It makes for a much a nicer presentation. Maybe even do it after she goes to sleep on Saturday night so they're waiting for her when she wakes up. Also, don't forget to cut the stems at an angle and add the included plant food ⏤ both will help extend the life of the flowers.
This article was originally published on