The 8 Toys of the 2010s That Changed How Kids Play
These toys from the last decade made kids and grown-ups obsessed, sold out (and sold out again), and changed how we thought about play.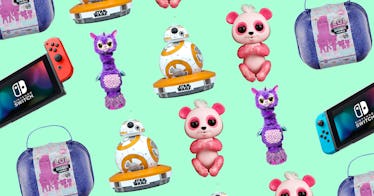 A great toy inspires, engages, delights, and maybe even teaches your kid a few things. Some toys go even farther and become phenomena: They start trends. They become cultural touchstones. They sell out, to the point where parents hunt for them on eBay with the dedication of Boba Fett and then overpay when they find them. And of course, they spawn a thousand copycats.
You'd think that a lot of toys fit that criteria, but in fact, many toys are just popular — and that's all they are. While the Elsa doll was the toy of 2014, thanks to the Frozen merchandising juggernaut, it didn't break new ground. And while Lego continues to be a perennial favorite of kids and parents, the brand didn't launch anything that became an obsession, that transformed parents into maniacal toy bounty hunters.
The following toys are the most memorable of the last decade: they made us obsessed, changed us in some way, and marked their moment in play history.
2011: Minecraft Popularizes Open-Ended Gameplay
In 2011, kids became enamored with a multi-player game in which they created entire civilizations from scratch using blocks and raw materials. Panda sanctuary? Luxury pool with dolphins? Mansion with working fireplace and bunk beds? Check and check and check. They fought foes. They cooperated with other players. They survived zombie attacks. And they wound up making Minecraft the single best-selling video game of all time. Now, Minecraft is a game, but given its relentless popularity, it also had affiliated merch, like the light-up sword. It's been introduced in schools through the MinecraftEdu program. And if games like Ace of Spades and Terraria seem like Minecraft clones, that's not exactly an accident.
2015: BB-8 Becomes the First Truly Accessible App-Enabled Droid
Today, toy robots that you control from your smartphone are ubiquitous and created for every possible age group under the larger umbrella of STEM toys. That wasn't always the case. The whimsical BB-8 droid made its debut in the 2015 blockbuster Star Wars: The Force Awakens, and the toy version landed in stores in September. Sphero, the manufacturer, has gone on to release a slew of very cool coding toys, but its app-enabled BB-8 droid — cute, fun, and easy to use — became, we can say without hyperbole, a global obsession. And it was a natural extension of a hit movie, a piece of merchandising that not only made sense, but also worked within the context of the Star Wars universe.
2016: Hatchimals Starts the Nurturing Surprise Toys Trend
In 2016, an unholy hybrid of surprise toy, bird, and robot emerged as the most desired toy of the year. Yes, folks, we're talking about Hatchimals. Kids incubated an egg, which then hatched. And out of this egg emerged a creature straight out of — actually, we're not really sure, but damn, it was weird. It talked, it waddled, it squeaked, and the more kids played with it, the more it learned to respond to them. In fact, kids were mostly fixated on seeing which Hatchimal they'd get, and the wow factor ended there. It's worth noting that one of this year's most popular toys is the Owleez, a robotic nurturing owl that turns into a drone once she feels confident enough to fly.
2016: L.O.L. Surprise! Ushers in the Unboxing Craze
Also in October 2016, the world was introduced to truly disposable toy culture with the launch of the L.O.L. Surprise! dolls, from MGA Entertainment. Kids got eggs filled with surprises, and peeled away roughly 900 layers of plastic to find out what was inside. Never mind that the actual toys were flimsy, at best. Toy companies quickly figured out that kids dug the surprise element and what became known as the unboxing toy culture, and today we have everything from Cutetitos (burrito surprise toys) to Poopsies (slime surprise toys) — and a whole shit-ton of plastic waste to go along with them. So, we were pretty psyched when MGA's CEO told CNN that the company was "working on a brand-new biodegradable plastic for 2020."
2017: Fingerlings Unleash the Viral Toy Fixation
In 2017, the evil geniuses of the toy industry gave us Fingerlings: plastic toy monkeys, unicorns, and sloths that attach to fingers and react to touch and sound by blinking and making sounds. Cheap, engaging, and weirdly alluring, they became a national obsession with kids and parents. They're the brainchild of WowWee, a small company that set out to create a viral craze by limiting production of the toy to increase demand. It worked. And then some.
2017: Nintendo Switch Makes Gaming Truly Portable
Mobile gaming became truly mobile, and way more portable, with the launch of the Nintendo Switch in March 2017. The hybrid console was the first of its kind, letting gamers either connect it to their TV sets, or use it as is. But the lead-up to the launch was worthy of a Star Wars release in terms of secrecy and teasing. Nintendo first announced the birth of the console with an October 2016 trailer. Then, the brain trust behind the Switch presented it to Jimmy Fallon on his talk show in December and he played it live. To the surprise of no one…it was a huge hit and spawned this year's Nintendo Switch Lite, an even more portable gaming console.
2017 and Beyond: YouTube and Instagram Give Tired Toys New Life
Remember the fidget spinner, which is exactly what it sounds like? They'd been around since the 1990s, but exploded in 2017, thanks to YouTube videos of pros doing crazy tricks with them. Spinning them on faces! Spinning them on shoes! Suddenly, you could get Marvel-themed fidget spinners, Star Wars-themed fidget spinners, gold and pink and purple and green and silver fidget spinners. And every kid had to have one. Until one day… they didn't.
Slime followed a similar path: The DIY substance kids had been making at home for years was suddenly everything. Thanks to Instagram, YouTube, and their many slime-makers, the squishy, sticky goo has had a major moment this decade; kids vie to see who can create the most unique kind in terms of appearance, consistency, and smell. At least this trend seems to be here for the long haul.
Every product on Fatherly is independently selected by our editors, writers, and experts. If you click a link on our site and buy something, we may earn an affiliate commission.
This article was originally published on