Lego Minions Have An Evil Plan To Make You Feel Better
Yes, the new movie was pushed back a year. These Lego sets, however, are peak Minion.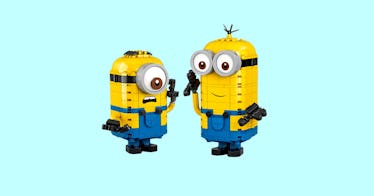 The bad news for your kids is that Minions: The Rise of Gru was pushed to July 3, 2021, a year later than originally planned — cue sad Minion squeaking. The good news is that the Lego sets inspired by the movie are here for your children's building pleasure. The Lego Minions sets are, of course, inspired by the franchise, but they actually stand on their own merits independent of the movies.
There are five sets to choose from: Gru's lab, an airplane, a motorcycle, and something called "Minions Kung Fu Battle." They look like pretty simple, pretty standard sets that we assume are inspired by specific scenes from the movie a la the Lego Movie 2 sets.
The fifth set, "Brick-Built Minions and Their Lair," is the clear stand-out of the bunch. It's 876 pieces and it offers a degree of interactivity and versatility that will keep your kids entertained for longer than most sets this size can.
Kids can be three different Minions with this set, ranging from four to just over five inches tall. On the back of each one, there's a pair of hidden doors that open to reveal character-specific lairs. And the lairs are weird in the best sense possible. Like, weird enough that actual adults (read: this adult) were captivated.
Kevin's lab is full of tools and diagrams, Stuart's bedroom an array of knobs and dials, and Bob's dojo an assortment of plants. Each has room for the respective minifigure — all three are included — to hang out inside, Russian nesting doll-style.
At the top of each hidden compartment, there's a knob that kids can turn to make the eyes on the front of the model move in circles. And when playtime is over, kids can close these guys up and put them on a shelf, where they'll look right at home.
To assemble their yellow buddies, kids can use the included printed directions or Instructions PLUS, a section of the Lego app that includes interactive instructions that help even young kids build independently.
Our only real complaint about this set is that kids can have either Stuart and Bob or Stuart and Kevin built at the same time, so they can't get the whole trio together. Cue sad Minion face.
Every product on Fatherly is independently selected by our editors, writers, and experts. If you click a link on our site and buy something, we may earn an affiliate commission.