This $20 Video Game Controller Is Perfect For My Gaming Toddler
The PS4 Mini Wired Gamepad is built for young gamers with little hands.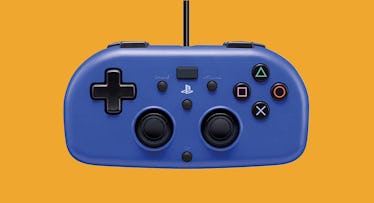 My daughter is the furthest thing from a hardcore gamer. She's three. She enjoys playing the simplest kids games and watching me die repeatedly in Donkey Kong Country on the SNES Classic. But when she does play her favorite game, Rocket League, her hands hurt after about five minutes. The standard Dualshock PlayStation 4 video game controller may be a marvel by gaming standards, but to a 3-year-old, it's an uncomfortable brick. And since I didn't know there were controllers made specifically for children, it never occurred to me upgrade. Then I stumbled upon Hori's officially licensed Mini Wired Gamepad.
There's no mistaking that this controller is designed for kids ⏤ the tagline on the box actually reads "Built for Young Gamers." The Hori Mini Wired Gamepad is almost half the size of the standard Dualshock PS4 controller (and half the price at $30), colored a playful blue, and evocative of the retro rounded edges of the SNES controller from the early 1990s. It's powered by a 10-foot long USB cord so you never have to worry about charging it. Plus, thanks to the cord's length, it's perfect for kids who get excited and start jumping around with the controller in their hands. Even better, the Hori Mini Wired Gamepad is Mac compatible if your more of a computer-game family.
The Hori Mini Wired Gamepad works no differently than the typical PS4 controller, it's just missing some features. There is no speaker, no headphone jack, no light bar, and the touchpad is downgraded to a soft rubbery button about the size of a beefy breath mint. All non-essential stuff for a kid really, unless your five-year-old is active on twitch or playing a game that heavily uses touchpad features, like Uncharted 4. Just like your standard Dualshock, the controller has to be turned on with a slight hold of the PS button towards the bottom of the controller.
Although both the manual and box warn that the Hori Mini Wired Gamepad is compatible with most PS4 games, I decided to test-drive it on a serious gamer title, Destiny 2. And while my hands did feel awkward on the smaller chassis, the little blue controller held up just fine in terms of response and gameplay. That said, the hard plastic thumbsticks were a step below the Dualshock, at least in terms of comfort, although they didn't seem to be a problem for my daughter.
In fact, the controller fit perfectly in her hands, and as a result, she was much more eager to pick it up than she was the Dualshock. She knew it was her controller and had no trouble pushing any of the buttons, even the top bumpers. Her playtime is still brief (at least compared to mine), but it's obvious she's having more fun now. She's much more excited to play again when the game is finished, and she hasn't complained yet about hand soreness. Which is great. Now if only she'd stop asking for a sip of my Mountain Dew Code Red. Kidding.
This article was originally published on