The $50 Clock That Keeps My Toddler In Bed Every Morning
Mella is a sleek sleep-training clock that uses colors and cute smiles to let kids when it's okay to get up.
by Dave Baldwin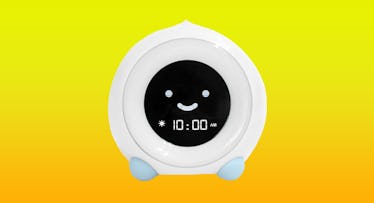 I never wanted to convert my daughter's crib to a toddler bed ⏤ ever. Even after she turned 3 years old and it felt slightly weird that she still slept in a crib, my argument remained the same: She's a lights-out sleeper and an uninterested climber. Why screw up a good thing? But when she eventually climbed out and forced our hand, I accepted the inevitable and braced for the worst ⏤ our mornings were about to start a whole lot earlier. Only they didn't. My daughter's commitment to sleep, it turned out, far outweighed her desire to play ⏤ or even to venture out of her bed. She still waited patiently until we came in to wake her up. What had I been so worried about?
And then on vacation, all hell broke loose. It didn't take long for her to realize that she could both climb off her air mattress (and into our bed) or leave the room 50 times before going to sleep. I blame her cousins. My worst nightmare realized, the genie was out of the bottle. And the only way I knew to put it back in, if that was even possible, was with a sleep-training clock. When we returned home, I introduced her to her new friend, Mella from Little Hippo, a sleek $50 alarm clock that uses colors and cute smiles to let kids know when it's time for bed or okay to get up. It's also a traditional alarm clock, a sound machine with three settings (rain, white noise, and ocean), and a nightlight that glows in five colors. I'd been sent a review model months earlier but had no way to test. Now I did.
The concept behind Mella is simple. Because kids can't tell time, colors and facial expressions provide the queues. For example, the clock's little digital eyelids close at the pre-set bedtime so kids know it's time to sleep. Thirty minutes before they wake up, Mella glows yellow to let them know it's almost time to get up, but not quite. They're encouraged to stay in bed or play in their room, but not come out until the clock strikes green ⏤ at which point, release the Kraken. Mella has a cute kid-friendly aesthetic, clearly designed to be your child's colorful new companion, and after a quick consult of the instruction manual, it was easy to set and operate.
Admittedly, though, we got off to a rough start. My daughter simply woke up before the yellow light even turned on. Seeing no colors, she assumed she was free to explore the studio space ⏤ or in this case, climb into our bed. The next morning, in an attempt to solve the problem, I set the clock for 30 minutes earlier, 630 a.m. Of course, she came barging into our room at 6:29 a.m., one minute before the yellow light popped on. We were an unconvincing 0 for 2. Note, if I could change anything about Mella, it would be making the 'Play' time customizable, rather then locked into a half hour.
By Monday morning though ⏤ after further explanation about how it works and why no light still means stay in bed ⏤ our luck turned. Maybe it had been the weekend schedule but the full force of Mella was unleashed, and we've reaped the benefits since. Not only does our daughter now patiently lie in bed watching the clock and waiting (it's fascinating to see her on the video monitor) but, and I kid you not, she gets more excited about the light turning green than anything else currently going on in her life. For the last two weeks, she comes barreling out of the room at 7 a.m. yelling "It's green! It's green! Mommy, Daddy, do you want to see it?" ⏤ at which point we all march into her room and enthusiastically shower Mella with accolades.
How long will it last I have no idea? Yesterday morning, while the light was still yellow, she did come into our room to ask if we would join her to watch it turn green. So, obviously, there's still work to be done. Is it worth it? Sure, there are cheaper clocks out there that do the same thing, not to mention other ways to sleep train a toddler that don't involve technology, but we're off to a great start, and I can't complain about not being woken up at 6 a.m. Who knows, maybe some genies really can be put back in the bottle.
Every product on Fatherly is independently selected by our editors, writers, and experts. If you click a link on our site and buy something, we may earn an affiliate commission.
This article was originally published on