Don't Miss This Huge Sale on Melissa & Doug Toys
Play kitchens, musical sets, costumes, oh my.
by Lexi Dwyer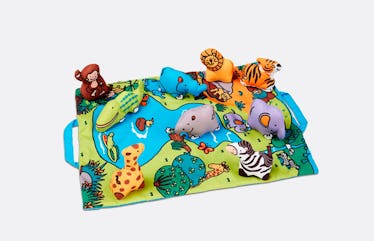 Whether it's a Melissa & Doug grocery store, an ice cream cart toy, puppets, or a Melissa & Doug toddler puzzle, the brand can basically do no wrong when it comes to baby and toddler toys. However, those toys are not exactly cheap.
We don't know exactly why, but whether it's a sticker book or a kid-size play ice cream cart, Melissa & Doug's superpower as a company seems to be making toys that kids are obsessed with. It might be because the couple (yep, they're actually named Melissa and Doug) are parents to not two, not four but six children, which means that they have had access to product testers in every age group. (In a future story, we'll be hitting them up for time-management tips.) Of course, quality this high doesn't come cheap, so we've rounded up the latest markdowns on splurgy items.
You get two playsets in one here. Kids can sell anything from salty pretzels to sweet popsicles and condiments to cones. They flip the awning and switch the menu.
This puppet theater, which consists of a sturdy wooden puppet theater that features a sturdy, non-tip base, plush curtains, a clock, and a chalkboard, encourages hours of imaginary play.
These wonderful wood puzzles encourage visual perception skills and hand-eye coordination in little kids.
To bring imaginative play to delicious new levels, the set, aimed at kids three and up, comes with a hand-cranked conveyor belt, bagging area, card swipe machine, beeping scanner and cash drawer.
Yes, this set is loud. It's meant to be, as kids explore their musical side with 17 instruments, including a recorder, kazoo, harmonica, jingle stick, xylophone, and castanets.
Hey, it's almost Halloween, so score this firefighter set, which includes a jacket, helmet, badge, fire extinguisher, bullhorn, and reusable name tag.
This good-looking easel supports whatever medium your kids are feeling on a given day. There's a dry-erase board, chalkboard, paper-roll holder with a child-safe paper cutter. It also comes with plastic trays for paint and clips to keep the current masterpiece securely attached.
The open-side design means every kid who's playing gets access, which helps cut down on squabbling. The six-room house comes with 15 pieces of furniture, and also has an elevator and a garage.
The workbench comes with a functioning vise, tool rack, wooden tool set and hardware. There's also a manual that parents can use to help their kids build different things (the projects have an Erector-set vibe). It can also double as a desk or art table, giving you more bang for your buck.
Because this Melissa & Doug food set is great for multiple kids, it helps develop not only fine motor skills, but sharing and social skills.
The kitchen has a large oven, realistic-looking burners and a two-shelf refrigerator, along with a (pretend!) drink dispenser and milkshake mixer. On the restaurant side, kids will find a booth and a jukebox with a coin slot (drop the included coin in, and it shows up in the kitchen—rinse and repeat). Other fun details include a spinning cake plate and pass-through window, but note that food items and other accessories must be bought separately.
This baby play mat is fully portable, has a non-skid backing, and comes with nine soft safari animals.
Every product on Fatherly is independently selected by our editors, writers, and experts. If you click a link on our site and buy something, we may earn an affiliate commission.