This McLaren 720S Sports Car for Kids Is an Impossibly Sleek Ride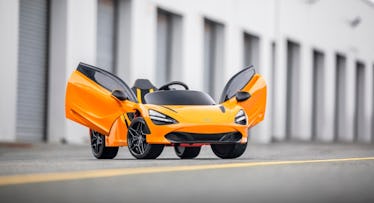 McLaren Automotive
If your kid already has a Hot Wheels addiction, has begged you to watch the latest in the Fast & Furious franchise, or just has an obsession with all things that go vroom, just imagine how ecstatic they'd be climbing behind the wheel of their own ride-on sports car.
And not just any sports car. The McLaren 720S ride-on, meant for kids aged three to six, looks amazingly like the actual supercar. It has the same distinctly aggressive silhouette and matte black wheels of its full-sized sibling along with the twin butterfly doors that open up instead of out. Besides being a fraction of the size of the real deal, the biggest difference is that the ride-on is roofless.
That would create a lot of wind resistance if you were zooming along in an adult-sized sportscar powered by a twin-turbo, 4.0-liter V8, but it's not a big deal when there's an electric motor — complete with sound effects — under the hood.
Kids can start the motor up with their own key and use the steering wheel and pedals themselves, or mom and dad can take over and steer the kid around with an included remote control.
As with any vehicle as flashy as this one, color is key. McLaren's trademark Papaya Spark will be available exclusively at official retailers, but seven other options can be had at "selected global toy stores," including Azores Orange, Belize Blue, Lantana Purple, Onyx Black, Mauvine Blue, Silica White, and Saros Grey. All are identical to colors available for the full-sized 720S.
Inside the car, an infotainment center displays the remaining battery life and can play music or movies when you load them onto a USB drive or SD card. Six popular songs for kids are preloaded onto the system.
The McLaren 720S Ride-On is available to order for £315, about $400 or 1/700th of the price of a real 720S. So while you might not be able to afford the real deal yourself, you can give your kid sportscar nirvana with this flashy ride-on toy.
You can watch the appropriately over-the-top introductory video below.
This article was originally published on