The $20 Matador Mini Pocket Blanket Always Saves My Butt
The light, packable blanket attaches to a keychain and is clutch for picnics, beach trips, and any time you might sit on soggy ground.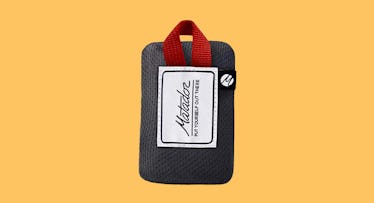 I have had a lot of gadgets attached to my key ring. Bottle openers. Bike tools. Flashlights. A leather tag from a former girlfriend that read "Puppy." (That was a weird time). But of all the things that have had the pleasure of spending time amongst my house keys has not been a source of illumination or a keepsake but rather a blanket. That's right, a blanket. Specifically, the Matador Mini Pocket Blanket, a small square pouch in which is stuffed a nylon blanket, water-resistant blanket. It costs $20 and is by far one of the most useful things I've ever carried.
Unfolded, the Matador Mini Pocket Blanket measures 44 x 28 inches. It's made from an ultra-light nylon that is both puncture- and water-resistant and comes with a keep-looped carrying pouch. The blanket itself also has some neat hash marks on it that makes it easier to fold it up for the pouch instead of cramming it in there in a bout of frustration. That's about it.
So, why, you ask, in this day where people neurotically drone on and on about their every day carries — or EDCs — does a keychain blanket make the cut for me? There are many reasons but the most pressing is this: I don't like my ass cheeks to get soggy, dirty, or scuffed by sharp rocks or sticks. You see, I hike and camp quite a bit and when hiking and camping you take breaks and sit down on rough patches of earth. Those rough patches of earth can sometimes be muddy, dewy, covered in sharp rocks or splintered sticks. If I throw down the Matador, I can sit comfortably and drink my flask of water without worry of butt cheek-ruination.
It works as an impromptu blanket for family picnics or beach trips, too. It can fit two, maybe two and a half regular-sized asses on it so the entire family can plop down on it. At the very least, it works as a tablecloth to place beer, boxes of crackers, or whatever else we want to place on it.
I got the Matador Mini two years ago and it rarely leaves the circle of my keychain. Why would it? The pouch is light and effortless to shove in a pocket so it's not a problem carrying around. In fact, I often forget it's there amongst my keys. That is, until I require its services. Then it's right where I need it to be.
Every product on Fatherly is independently selected by our editors, writers, and experts. If you click a link on our site and buy something, we may earn an affiliate commission.
This article was originally published on