MasterClass Is the Ultimate Last-Minute Mother's Day Gift
It's quarantine-friendly and doesn't require any shipping.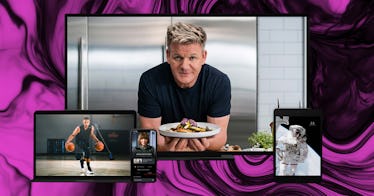 masterclass.com
One of the worst things about Mother's Day this year is obviously everything related to COVID-19. But for husbands who are trying to get a Mother's Day gift at the last-minute, this sucks particularly hard because there's no store to run to on Saturday. This means you have to have something delivered, which, at this point, is going to be hard. So, you need a digital gift, and you need it to not be a lame e-card.
Enter MasterClass. Yeah, you heard me. MasterClass. You've seen the slightly pretentious ads on Instagram where David Lynch or Samuel L. Jackson randomly appear and you're told they are going to teach you about something. This seems like a scam, but you know what? It's actually awesome. My wife was gifted MasterClass by a friend of hers as an early Mother's Day present, and she's thrilled. I'm devastated because I wish I'd thought of this. There's a course from Margaret Atwood on creative writing. Annie Leibovitz on photography. Classes on cooking and mixology. Master designers. Essentially, a full range of hobbies and activities that someone might want to do at home while they are in quarantine.
MasterClass costs $180 bucks for the year, but at the moment, that also includes a second free membership. Listen up, dudes: This means, you could get the membership for your wife and another membership to, say, your sister, or your mom, or your mother-in-law. It's a fancy gift that doesn't cost that much when you break it down.
How does it work? Well, the "classes" are mostly just a series of pre-recorded videos from the super-famous people who "teach" the MasterClasses. That said, it's not like when you sign up you get one person. You can pick up to six different instructors, which means you get a wide range of stuff to choose from. From singing lessons given by Usher to cooking lessons from Gordon Ramsay, there's actually a lot here. (Small hack: When you select your instructors, you have to select what you want the first time. There's no going back and there are no takebacks.)
Buy a MasterClass subscription here.
This article was originally published on