Get This Mandalorian Nerf Gun Before It Disintegrates
It's pricey, but it's almost certain to sell out.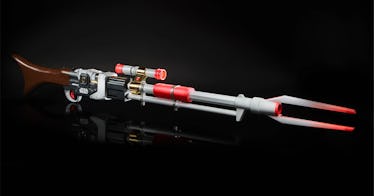 NERF
Along with that sleek beskar armor and the well-worn but dependable Razor Crest (RIP), the Aman Phase-pulse blaster is one of the Mandalorian's signatures. In the one-and-a-half seasons of the show so far, the double-pronged rifle has served Baby Yoda's protector well, as both a rife and a melee weapon. So, as seems to be the case with any fictional weapon, it was only a matter of time before Nerf set about making a foam-firing version.
The Nerf LMTD Star Wars: The Mandalorian Aman Phase-pulse blaster is a study in extremes. It's extremely long, at 50.25 inches and a 1:1 scale, and extremely faithful to its onscreen inspiration. The on-board speaker makes series-accurate blaster sounds and there's an electronic scope with an illuminated lens just like the one Mando often pulls off the weapon to use when looking out some potentially perilous terrain.
And of course, the double-pronged tip, crescent-shaped wood-textured stock, battle wear details, and gold-colored vacuum-metalized details make it look a lot like the rifle seen on the show.
Unfortunately, the other two extremes this weapon embodies are less attractive. It's weak compared to the many battery-powered blasters out there, as its breech-loading, spring-powered firing mechanism can't match the range or speed of battery-powered blasters.
It's also, at $120, extremely expensive. For the same price (or even less) you could get a much more powerful blaster, albeit without the imprimatur of a galaxy far, far away. The upcharge is due to the fact that the blaster is part of the new Nerf LMTD line, "a new premium & special edition fan targeted line" that seems to translate to the more accurate recreation and corresponding higher price of this toy gun.
The blaster comes with ten darts but not the two AAA batteries you'll need to use the scope and hear the sounds. Is it worth it as a blaster for a true Nerf aficionado? Probably not, but the dedicated Star Wars fans, particularly those who've been enraptured by The Mandalorian, it could be a must-have.
The Nerf LMTD Star Wars: The Mandalorian Aman Phase-pulse blaster goes on sale at 4 p.m. ET today and is slated to ship next spring. It seems likely to sell out, so pounce on it soon if you're ready to take the plunge.
Every product on Fatherly is independently selected by our editors, writers, and experts. If you click a link on our site and buy something, we may earn an affiliate commission.
This article was originally published on