Luxury Gifts for Men Who Already Have It All
Let's just imagine that a $7500 camera and a boat that's 52 times that is all in your range for entertainment expenses. What does your gift guide look like?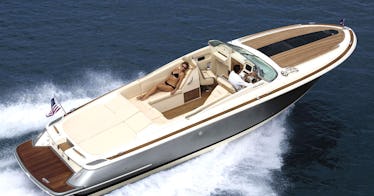 Say money wasn't an object, what gifts would you buy yourself? Yeah, we know, there are bills to pay and college tuitions to save for and that retirement account isn't growing itself. But let's just say that wasn't the case. In this Gatsby-esque world, what wild material desires would be fulfilled? What lustworthy prizes and dream gear would turn your life from dad-with-a-new-sweater to dad-with-a-playboy-lifestyle? We have an idea. To all you billionaires, jet setters, trust-funders, or simply financially irresponsible men out there, here's your gift guide.
A Camera That Reflects the Moon
Hasselblad, the camera brand that went to the moon in 1969 hasn't changed much — in looks, that is. The Hasselblad 907x 50c has all the rugged efficient look of the old school camera that went on Apollo 11, but it weighs less than half-a-pound, has 50-megapixels, and an insane dynamic range. The images look as good as the camera itself.
A Timepiece Built to Climb
This gorgeous Montblanc — which is comprised of 1,858 pieces, including two domed globes that turn in opposite directions to complete a full rotation in 24 hours, both surrounded by a scale with the 24 time zones — is a technically proficient watch. But not the kind of technically proficient you'd want to take with you to the top of, say, Everest. But that didn't stop Montblanc from dedicating it to the Seven Summit mountaineering challenge — that is hitting the highest peak on all seven continents (Denali, Everest, Aconcagua, Kilimanjaro, Vinson Massif, Puncak Jaya) in one calendar year. A worthy worldly challenge for a worthy worldly watch.
A Statement-Making Watch For Special Occasions
The Nomos Ludwig Neomatic 41 is, simpy put, an elegant timepiece that classes up a black tie without stealing the show. The tempered blue steel hands pop against the simple white silver plates and the roman numerals keep it in the background, where it's meant to go.
A Record Player That Cuts No Corners
If you were going to buy the best-damned record player on the planet, you'd probably want to ask Jack White what to do. The White Stripes and Raconteurs frontman, Nashville royalty, and founder of the too-cool-for-you Third Man Records is the poster child for the vinyl resurgence. He also has that record player rec ready for you. Third Man Records has partnered up with Shinola to offer a high-end player, speakers, and something of a record starter kit (think, Muddy Waters, Lightnin' Hopkins, and The Detroit Cobras). Record-playing perfection will cost you, but what's four grand for the best music listening station around?
The Best Seat in the House
You know that simple, but perfect leather chair you see in every wilderness lodge ever? The one where you sink into it after a long day outdoors, sip on whiskey, and delve into a good book? This is that chair.
A Celebration-Worthy Whiskey
Is Pappy's bourbon overrated? Given the wild assortment of great whiskeys that will cost you a fraction of the price, yeah, it's probably overrated. But it's not just something to drink. It's a conversation-starter. It's a status symbol. Most important, it's a way to show your guest that you think that they're special enough to pour a precious dram of Pappy Van 23 Year Preserve.
A Weekend Cruiser
What's the perfect boat? For one, a vessel that doesn't require too much upkeep — no crew or private dock that is also relatively easy to haul. Besides that, it needs to be comfortable in chop, fast when you need it to cruise, able to host a pleasant overnight, and, of course, it needs to be stunning, preferably with lots of exposed wood finish. The Chris Craft Calypso 35 checks all the boxes. Your choice is made.
A Motorcycle Worthy of Your Wanderlust
The Indian FTR 1200 is the motorcycle you never knew you were missing. An American stunner that's at home equally on road and packed dirt, the FTR (that's short for Flat Track Racer) is a bike that's not only head-turning but fun as hell to ride.
A Home Away From Home
The log cabin is the right kind of minimal for a wooded getaway, but it's a design that begs to be updated. Where are the windows? And why are you going to nature to hide in the dark smokey abode? The Ark Shelter, a perfectly minimal, small, but high-design home that immerses you in nature. The movable walls and ample glass certainly helps.
A Summer Adventure Kit
It used to be that backpacking through valleys and crushing remote whitewater were separate activities. No longers. Packrafting is the new epic activity for folks with ample time, ability to travel, and a ton of specialized equipment. A trip starts with a handmade raft that is light (try less than 15 pounds) and packs really ridiculously small. There's no better brand than Alpaca for this, and their Expedition fits the bill for any kind of adventure. ($1830) Add a 15-ounce – yes, ounces — oar that folds up ($179, here) and then make sure you have a perfectly customized (and light, always light) backpack like the Arc'teryx Bora AR 63 Backpack ($549). Now you're ready for your adventure. The expenses don't stop there, of course. We suggest getting heli-dropped in the middle of British Columbia (the Stikine is nice in August), or along the Yukon Range in Alaska, which is wet in the summer and still pretty cold, but also stunning and wild.
A Winter Adventure Kit
Sure, you can ski in Tahoe or Park City or Aspen or any number of great places with fine powder and luxury amenities. But inbounds skiing is so 2010. The biggest adventures await in the backcountry — over the mountains and through the woods where no one's grandmother has ever gone. There will be lung-rattling ascents. There will be avalanche-skirting dangers. There will also be epic lines that only you and a half dozen others will ever see. Before you get to mapping the untouched parts of Wasatch or the Rocky mountains, you need some serious equipment. Dropping three grand on a backcountry ski package (before the helicopter and private guide)? Downright reasonable.
A Home Theater System That Truly Rocks
What self-respecting person of wealth doesn't have a home theater system that puts your local Alamo to shame? The sound should be crisp and loud and come in a sleek package (the Naim Mu-so does this like no other), the television should be simply ridiculous (like a 6-grand-85″-8K-HDR kind of ridiculous), and the seats should immediately tell guests that, yes, I am serious about movies.