The L.O.L. Surprise! Glamper is Surreal Van Of Our Dreams
It's even got its own water slide.
by Briana Haas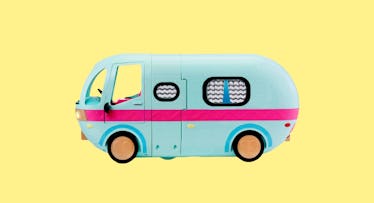 L.O.L. Surprise dolls and glamping to together like cut-off jeans and a Kid Rock concert.
For those not in the know, or those who like to rough it old-school, let us explain the concept of glamping. It's a hybrid of glamorous and camping, meaning you dip your toes into Mother Nature without actually getting said toes dirty. Of course, if there's a toy brand that's synonymous with all things ridiculous and over the top, like glamping, it's the wide-eyed world of the L.O.Ls. And thus, it's no surprise that among this fall's hottest toys is the L.O.L. Surprise! 2-in-1 Glamper Fashion Camper.
It is an RV? Is it a mansion? Is it a water park? Why, it's all three. The glamper is the first vehicle for the L.O.L. Surprise! dolls and, to no one's surprise, they're not slumming it. The mega-mobile opens in the back to become a two feet tall by three feet wide full glam life experience. The glamper includes bunk beds, a light-up pool and slide, a fashion runway, a BBQ patio and DJ booth. Presumably so the L.O.L.s can sing campfire songs and roast marshmallows. Dolls can zip down the water slide, and then chow down on burgers.
The glamper fits both L.O.L. Surprise! dolls and their taller friends, the L.O.L. Surprise! O.M.G. Fashion dolls. There are bunk beds for L.O.L. Surprise! dolls and a full- size bed to accommodate O.M.G. Fashion doll guests. For those dolls not into glamping, the front detaches into a separate car, with working headlights and horn, and the driver's seat can be adjusted for size. When kids are done playing, they close up the glamper until they're ready for the next pool party.
While it's certainly over the top, we're sort of smitten with this thing. It's like an outrageous water park on wheels. And who can argue with that?
Every product on Fatherly is independently selected by our editors, writers, and experts. If you click a link on our site and buy something, we may earn an affiliate commission.
This article was originally published on