Elsa on Steroids: Say Hello to the Flashy Limited Edition L.O.L. Surprise! Doll
This doll is next-level glam, in a good way.
by Donna Freydkin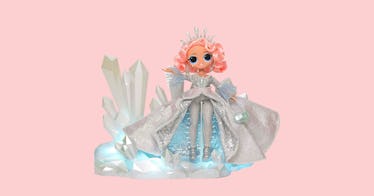 L.O.L. Surprise! dolls are known for many reasons. They're big sellers and perpetual moneymakers, thanks to countless spinoff items like the L.O.L. OMG dolls and this year's new glamper, plus the whole surprise element that's key to their appeal. They have oversized eyes, reminiscent of the works of Margaret Keane (who was immortalized in the film Big Eyes). And of course, the L.O.L. line is notoriously heavy on plastic packaging, which winds up in landfills and then subsequently our oceans.
But all that aside, we're here to welcome the latest entrant to the L.O.L. family, the collector 2019 series fashion doll, Crystal Star. Why her name sounds like she belongs in the movie Hustlers, she is, in fact, a devotee of disco. Per the brand, she's dripping in crystals from head to toe. Hence the moniker. She also has pink hair and a backdrop reminiscent of Frozen.
This doll, unlike her L.O.L. sisters, is limited edition and is being billed as a collector's item. Which means that you should buy her while you can.
As for Crystal Star, she has sparkling highlights, crystal cheeks, and wears a shimmery jumpsuit studded with (you guessed it) crystals. Because too much is never enough, she also wears a platinum sequined skirt. She comes with her own light-up stage, doll stand, and disco ball.
Get ready for some serious Staying Alive vibes, ya'll, plus more plastic waste. This doll is meant for kids six and older.
Every product on Fatherly is independently selected by our editors, writers, and experts. If you click a link on our site and buy something, we may earn an affiliate commission.
This article was originally published on