This Amazing 979 Piece Lego Thor Hammer Actually Can Smash Stuff
Surprisingly sturdy. Are you worthy to wield it?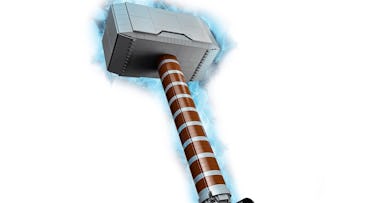 By now, you have probably watched the trailer for Thor: Love and Thunder approximately 50 times but if you really want to take your Thor0love to the next level, Lego has the perfect set for you. You can now have your very own Lego version of the iconic Mjölnir Hammer, assuming that you are worthy.
The set is nearly 1,000 pieces (979, to be exact) and comes with some neat extras that fans of the MCU will go nuts for, including a mini Thor figure and mini versions of the Infinity Gauntlet, the Tesseract, and Odin's Fire. It also comes with a stand where you can set Mjölnir when you are not using it to fight against the forces of evil.
And this version of Mjölnir is built to last and will not fall apart the minute that you pick it up. Despite being made entirely of Lego blocks, the hammer is surprisingly sturdy, so much so that you might even be able to do some smashing (though you probably want to avoid reaching Hulk levels of smashing, as your beloved Mjölnir may end up getting as smashed up as when it crossed paths with Hela in Ragnarok).
This is also a Lego set that is specifically designed for adults, with an 18+ designation which means that Peter Parker is going to have to wait another year before he is recommended to buy one. It is also realistically sized, with the hammer reaching a length of 18 inches that will make you feel like you really are the god of thunder (or Steve Rogers at the end of Endgame).
The current price for your very own Lego Mjölnir set is $99.99 and you are only allowed to buy two at a time, though that should be more than enough to keep your house protected from the Frost Giants.