Lego's New Star Wars Cloud City Set Brings Lando's Floating World to Life
Betrayal at Cloud City is a monster of a set, made of 2,812 pieces.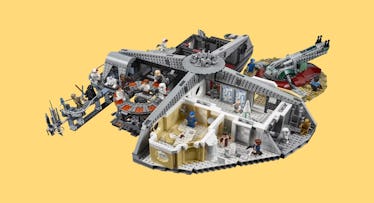 Cloud City is the setting for at least two of the most iconic scenes in The Empire Strikes Back. It's where Leia professes her love to a soon-to-be-frozen Han Solo (He knows) and where Luke learns that Vader is his father. For such an important place in the Star Wars universe, the hovering metropolis has gotten short shrift from Lego, with but one 698-piece set released in 2003. Well, 15 years later, the company is finally making amends with the release of a Cloud City set worthy of its place in the Star Wars story.
Betrayal at Cloud City is a monster of a set, clocking in at 2,812 pieces, reminiscent of the similarly detailed and massive Millennium Falcon and Death Star sets. The four feet square, six-inch-tall set is the first in the Star Wars Master Builder series, a new classification that hopefully means plenty of other epic Star Wars sets are on the way.
The set is divided into four different sections, each the setting for specific scenes in Empire. There's a landing pad where Boba Fett's Slave I ship docks. The seven-inch-long ship comes with movable wings and a space where you can store Han after he's been frozen in carbonite (more on that later).
The second section contains the dining room, lounge, garbage processing room, and promenade. You can fit up to five minifigures in the dining room and a couple in the lounge. The garbage processing room has an incinerator with the promenade has its own sculpture, mural, and passageways to other parts of the model.
The third section is where both of Cloud City's most memorable movie moments take place. The balcony where Luke and Vader battle swings out near a maintenance cabin. There's also a carbon freeze chamber, complete with a level-activated freeze function, where Han Solo was frozen and given to Boba Fett.
The final section contains the interrogation chamber with chair, a prison cell, and a hangar that has space for the Twin-Pod Cloud Car that escorts the Millennium Falcon to the ship (included).
It would be a shame for these detailed rooms to sit empty, so it's great that Lego included 18 different minifigures and two smaller droids: Han Solo, Princess Leia and Luke Skywalker in Bespin outfits, Chewbacca, C-3PO, Lando Calrissian, Lobot, 2 Cloud City Guards, 2 Cloud Car Pilots, Leia and Han in Hoth outfits, Darth Vader, Boba Fett, 2 Stormtroopers and an Ugnaught, plus R2-D2 and an IG-88 droid. With so many characters, its easy to reenact scenes from the movie.
Cloud City Betrayal will retail for $350 when it goes on sale, September 13 to Lego VIP members and October 1 to the general public.
This article was originally published on