The Best Lego Ninjago Sets For Discerning Spinjitzu Masters
Ninja, go! You know you want these Ninjago-themed LEGO sets.
by Donna Freydkin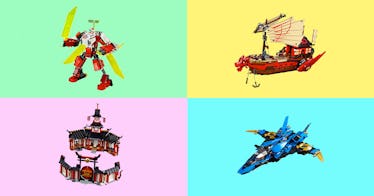 If you're the parent of a child, any child, you're most likely intimately familiar with Lego Ninjago sets. They're centered around the kooky exploits of teenage ninjas, who are fighting evil forces led by Lord Garmadon, with help from the wise Sensei Wu (who is Garmadon's good younger brother). Even in the inordinately deep Lego universe, the Lego Ninjago sets remain eternally popular because they're vibrant, the weapons are truly dope and actually work, and the sets are just a damn good time.
The Lego Ninjago world is crazy-detailed and quite entertaining, and revolves around a cast of characters including Cole (whose elemental power is earth), Kai (whose elemental power is fire), Zane (whose elemental power is ice), Jay (whose elemental power is lighting), Lloyd (whose elemental power is energy), and Nya (whose elemental power is water). There's a set for every skill level, so choose age-appropriate ones with the mini-figures that will appeal to your kids.
Every product on Fatherly is independently selected by our editors, writers, and experts. If you click a link on our site and buy something, we may earn an affiliate commission.
This article was originally published on