This Laser Tag Set for Kids Is 50 Percent Off For Prime Day
This four pack of laser tag guns — all you need to get a game going — is a hell of a deal for Prime Day.
by Fatherly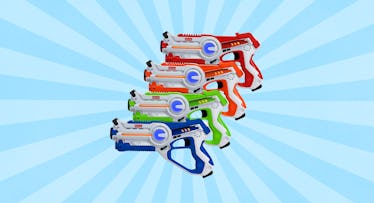 Laser tag is a beloved game for a reason. Who doesn't enjoy running around, Skittles-tinted pistol in hand, trying to make an opposing teammate vibrate from a well-placed hit? It's a genuinely good time that adults and children alike can enjoy. Plus, with only a few slight modifications, a game of laser tag can be played in basically any backyard or basement. That's why we lit up like one of the aforementioned pistols when we saw the Kidzlane Laser Tag Megapack on sale for 50-percent off this Amazon Prime Day. It's a hell of a deal on a fun, kid-friendly set.
The Kidzlane Laser Tag Megapack comes with four neon-colored guns, each of which vibrates when fired and when hit (there's a sensor on the gun that registers when it is tagged by a shot). The game can be played with up to four teams and the guns have four settings — pistol, shotgun, submachine gun, and rocket — each of which costs a specific ammunition and has a specific effect on the opposing players. Each gun requires 4 AA batteries and can shoot up to 130 feet.
Reviews of the product are pretty positive, with purchasers saying the guns feel sturdy and accurate, the game play easy to pick up, and the lights and noises loud but not .
Normally priced at $100, the Kidz Lane Mega Pack is already at a decent price for a four-gun set. However, at its Prime Day price it's a steal. If you have a birthday party you're planning or just want to wage war with the kids in the basement, it's a fun option.