This $30 Build-A-Dinosaur Kit Lets You Snap-Together 20 Different Light-Up Creatures
It's quickly become our favorite snap-together set.
by Hudson Lindenberger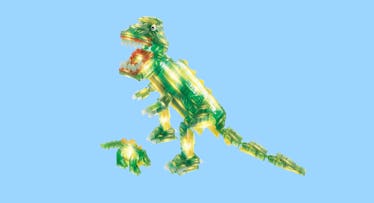 What happens when you combine the snap-together satisfaction of Legos with the old-school light-up fun of Lite Brite? The products from Laser Pegs, one of our new favorite toy companies. Laser Pegs offers a variety of well-priced construction sets that let kids build everything from cars and helicopters to extinct carnivores and cranes. They seem rather standard: There are a variety of parts, (including "mega bricks" fitted with glowing LEDs and sounds to give the assembled creations a bit of extra awesome) and a set of instructions. But, while most kits allow kids to assemble just one item, those from Laser Peg can all be broken down and built into different creations that follow the same theme, giving them great replay value.
Laser Pegs makes a number of great sets. Our favorite, however, is the 20-in-1 T-Rex. Comprised of 403 plastic building blocks — including six light-up power bricks, three light up pegs, for a total of 15 LEDS that flash and pulse — the set lets kids construct a 12-inch tall T-Rex with glow-in-the-dark teeth that can roars and move its legs and (oh-so-short) arms. Well, the finished product looks more like a cartoon-y Godzilla with dentures (the glow-in-the-dark teeth snap in place and look a little silly). But we say that adds to its character.
And, as this is a Laser Pegs kit, kids can disassemble the T-Rex and create one of 19 other dinosaurs, from the well-known (Stegosaurus! Triceratops!) to the what-is-that-I might-I-might-have-to-Google it (Ankylosaur! Gallimimus! Pachycephalosaur!). The sets only come with an instruction booklet for the T-Rex; but instructions for the other sets can be downloaded here.
While many building sets only allow you to snap-together single creations, it's nice to have so many options with the Laser Pegs kit. Because you know that, one day, your kid's going to tire of the T-Rex — or simply learn how awesome Ankylosaurs really are and want to piece together a light-up version of it. And even if your house is cluttered with sets from other companies, Laser Pegs kits play nice with sets from Lego, Mega Bloks, Magformers, Playmobil and more so you can combine worlds or simply unleash your Jurassic creations on that Lego pirate ship you just built.