The Best Valentine's Day Gifts for Kids of All Ages
There's more to love than chocolate.
by Donna Freydkin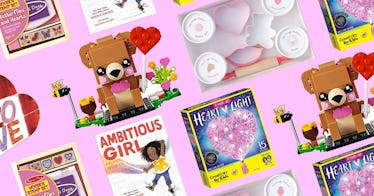 Fun fact: Before February 14th became intrinsically linked with an avalanche of hearts, chocolates, and roses, it was first connected to the notion of romantic love by Geoffrey Chaucer in 1382, as he wrote a poem honoring King Richard II's engagement to Anne of Bohemia. Today Valentine's Day is, of course, synonymous with love, and while presents for adults can go heavy on the romance, the best Valentine's Day gifts for kids are unique, cute, and fun. You don't want anything over-the-top or cheesy, and you want to do something sweet for them without drowning them in sentiment they're too young to understand. So make the day about celebrating love in its many forms, be it friendship, parental bonds, or the affection kids feel for a family pet. Now that's amore.
Valentine's Day Gifts for Toddlers
Valentine's Day Gifts for Preschoolers and Little Kids
Valentine's Day Gifts for Kids
Every product on Fatherly is independently selected by our editors, writers, and experts. If you click a link on our site and buy something, we may earn an affiliate commission.