This Felt Building Kit Is One Truly Sensational STEM Toy
A soft, fun toy designed for creative, open-ended play. Oh, and no plastic.
by Donna Freydkin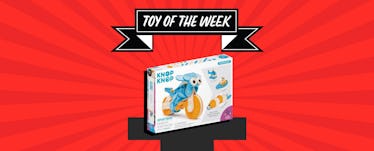 Look, we love Legos. Legos are awesome. But if you'd like an alternative to all that plastic, we'd like to showcase one of the coolest STEM building kits we've found. It's from a brand you've never heard of, called Knop Knop, and it's all about felt. Yes, soft, washable felt. And it's pretty much a perfect STEM toy for 4-year-olds.
Felt is endlessly flexible and adaptable. Unlike plastic or wood blocks, which are by their very nature rigid, felt can be bent and shaped into countless different patterns and designs, meaning Knop Knop's felt kits are ideal for open-ended play, which is the gold-standard: Kids can follow a kit's directions and build a dinosaur or a motorcycle — or they can go creatively off-road and follow their imaginations anywhere they want to go.
The felt pieces — which are washable and reusable — simply snap together, giving kids a fully tactile experience as they shape the felt into creatures, vehicles, houses… whatever they dream up. It's so brilliant, we wonder why this hasn't been done before.
Each kit is ranked by difficulty, so make sure you're not overloading your child. The kit below is made up of 68 pieces, so it's definitely on the more difficult end of the Knop Knop spectrum; in addition to instructions for the motorcycle, kids get directions on how to build a tugboat, helicopter or caterpillar. We're into the color palette too: It's gaudy and playful in the best ways. As for the brand, it's women-owned and launched just this year.
We dig this STEM toy for kids 4 and older. It gives their motor skills a hardcore workout (win, win), and immerses them in a world of play that's whimsical and colorful and creative. Really, what more could anyone want. And bonus: No plastic bricks to trip over during late-night bathroom runs.
Every product on Fatherly is independently selected by our editors, writers, and experts. If you click a link on our site and buy something, we may earn an affiliate commission.
This article was originally published on