There's a Giant Sale on Top-Tier Kitchen Knives Happening Now
Every knife you need, at prices you literally can't beat.
by Lexi Dwyer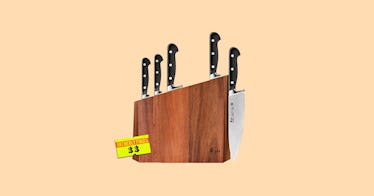 High-quality kitchen knives, the true workhorses of the kitchen, make cooking safer (as anyone who has ever sliced open their finger on a junky blade can attest) and more pleasantly efficient, whether you're staring down a giant bag of apples, an entire roast chicken or a teeny bulb of garlic. Thus, every home cook needs a chef's knife, a bread knife, a paring knife, a Santoku knife, and a solid kitchen knife set.
Yes, each slicing tool is an investment, but a well-made knife can last for ages. If you sharpen it regularly and keep it out of the dishwasher (the high heat can cause long-term damage), your grandchildren might still be using it in a few decades. A good knife should feel well-balanced in your hand (preferences vary from person to person) and keep its edge well.
A chef's knife is essential, since it can handle a wide variety of large- and small-scale prep tasks. But the others you choose for your arsenal will depend largely on what you're making, the size of your hands and personal preferences—some like the sleeker Japanese models, others go for classic, chunky and German. We've rounded up the best high-quality knives that are on sale this week.
Kitchen Knives
You get what you pay for. And in this case, we're talking about Zwilling's signature Friodur blades, which are hard, sharp, and stain- and chip-resistant. They're honed and hand-finished by artisans, and the sturdy bolster provides the right balance and acts as a finger guard so you can chop and dice and slice with total confidence.
When possible, you want a full tang knife, which means it's one solid piece and thus will last longer. This knife set has every knife you need, and the blades are high-carbon stainless steel blade for precision and accuracy when you're chopping up that perfect stir fry.
Zwilling has several tiers of products; the ones made in Germany are the best, but also the priciest. This set, made in Spain, is ideal for steaks, since you don't exactly need precision when slicing into a filet mignon. The knives are made of high-carbon stainless steel with synthetic handles.
This gorgeous knife set features a fully forged bolster for sturdy, balanced cutting. Equally ergonomic and the lightweight, stainless steel handles are easy to handle.
If you're not turning your kitchen into a Michelin-starred restaurant, this is a great everyday set of high-quality knives. This six-piece set includes 6-piece knife set includes an eight-inch chef's knife, a seven-inch Santoku knife, an eight-inch bread knife, a five-inch serrated utility knife, and the acacia knife block.
What makes Shun knives so damn great? They're made of layered Damascus steel for strength, and have a hand-hammered finish creates the hollow-ground feature that in turn reduces knife-drag and prevents food from sticking to the blade. Meaning, you get a clean, seamless slice every time.
This lightweight, German-made knife is designed to cut through vegetables and boneless cuts of meat, although some reviewers have also used it to go to town on chicken bones, with good results. Henckels hardens the blade using a process that involves ice, which helps it keep a razor-sharp edge through lots of prepwork. The handle has a full tang (meaning the blade and handle are fully bonded), giving it plenty of stability.
Fun fact: The word "santoku" means "three uses" in Japanese, which refers to this knife's ability to slice, dice and mince. The blade has oval-shaped indentations that help minimize how much food gets stuck on—a major annoyance most cooks can relate to.
Novice home cooks and those looking to stock their kitchen quickly could do worse than this starter set from Cuisinart, which comes with a wooden block, shears, a sharpening steel and 12 different knives: Chef's, slicing, santoku, serrated utility, two types of paring options and a set of six steak knives.
Any chef will tell you that you need to own a go-to, solid set of prep knives. The blades are forged from a single block of high-carbon steel, and the knives are set with full tang triple riveted synthetic polypropylene handles that will last basically forever.
Jobs that demand precision—like deveining shrimp or hulling strawberries—are best tackled with a good paring knife. This German-made version has a blade that tapers to a point. It's also fairly high, so you won't bump your knuckles as you're chopping.
Every product on Fatherly is independently selected by our editors, writers, and experts. If you click a link on our site and buy something, we may earn an affiliate commission.
This article was originally published on