6 Kitchen Tools Every Dad Needs, According to a Top Chef
These will make you look like a pro.
by Donna Freydkin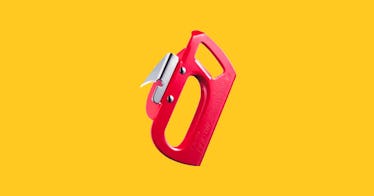 Whether you're getting ready to roast a duck, grill a steak, or try and concoct something that will appease your kid, the right kitchen gear and kitchen tools can make all the difference. Without the essentials, like a good knife, solid can opener or even a microplane, you're more likely to end up with a meal that's overdone, under-seasoned, and generally, subpar. Plus, the tools every chef needs make life easier, no matter what you're cooking for dinner.
Given that housewares aisles are crammed with all manner of peelers, dicers, knives, and devices competing for counter space, we turned to respected chef and new dad, Joe Vigorito, for some culinary counsel. (Do you really need a Vitamix or a Microplane? What differentiates a good can opener from a bad one?) He's the executive chef at New York's L'Artusi and a graduate of the French Culinary Institute, who got his start in his uncle's sub shop. Here are his top kitchen gadget picks for dads who love to cook.
Can Opener
"My ultimate is a Japanese can opener. They never break. The first time I ever saw one was in the first kitchen I ever worked in. It was one of these things, where can openers always disappear or are always broken. This guy pulls this out of this bag. It's a single piece of metal. I've had one for 15 years," says Vigorito.
A Grater
"I love microplanes of all shapes and sizes, for citrus zest, cheese, horseradish. The brand is called Microplane. They started as a woodworking tool and someone used it as a cheese grater and now, I can't live without it," says Vigorito.
Salt Cellar
"You absolutely need a salt well. I love a nice wooden salt well. It's easy access and keeps salt dry and keeps everything else out of it. It makes cooking so much easier," says Vigorito.
Cake Tester
"I have a really nice one that was handmade for me. Ateco makes a nice one, to feel the inside of something. You can use it to test anything — meats, vegetables, anything you're cooking. It makes cooking that much more error-proof," says Vigorito.
Vitamix Blender
"I can't live without a Vitamix blender. Any type of blender will do, but this is my favorite. It will blend anything. The consistency you get with it is unmatched. The blade rotates so fast you can heat something from cold to hot," says Vigorito.
Mezzaluna Knife
"I love mezzalunas. It's like a big curved knife, a two-handled knife. It's great for cutting herbs in large quantities. They're really hard to find. They're beautiful. They can blow through massive amounts of herbs. They're really cool," says Vigorito.
Every product on Fatherly is independently selected by our editors, writers, and experts. If you click a link on our site and buy something, we may earn an affiliate commission.
This article was originally published on