The Best Deals on Knives for Prime Day
In the market for a new set of knives? There are a number of excellent deals this Prime Day.
by Fatherly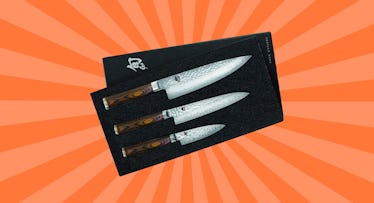 A proper arsenal of kitchen knives is an indispensable tool for every chef, be they Michelin starred or just starting out. This Amazon Prime Day, there are a number of great discounts on both full sets and single chef's knives alike. Affordable starter knife sets, expertly honed tempered blades, and more are all on sale for proper discounts. To help you out, we rounded up five of the best deals on kitchen knives this Prime Day
Looking for a quality starter knife set? This 15-piece set includes a chef's, slicing, santoku, utility, paring, bird's beak, and steak knives, as well as those old standards, shears, and a sharpener. It comes with a block, too. While it normally costs $160, it's on sale for $58. Not a bad deal on tools that will slice — and serve you well — for years.
Featuring 14 blades, including an 8-inch chef's knife, 8-inch carving knife, 8-inch bread knife, and six steak knives, this batch of blades is another ideal starter set. Ergonomic handles mean you grip them with control, while a 30-day money back guarantee means you can send them back if they're not, um, cutting it.
These knives were crafted by renowned cutlery maker Cangshan and the set includes an eight inch chef's knife, a seven inch santoku knife, an eight inch bread knife, a five inch utility knife, a 3.5 inch paring knife, and a block.
Not everyone needs a 14-piece mega knife set. This Shun knife set is all about the basics. In includes three knives: a four-inch paring knife, a 6.5-inch utility knife, and an 8-inch chef's knife. The knives feature layered Damascus steel with hand-hammered finish and can handle any job you throw at them.
In the market for a single chef's knife? Consider this. Sharp as a scalpel, this knife features a hammered tsuchime finish to reduce drag and minimize stuck-on food. It also features an ultra-sharp AUS-10V vacuum heat treated Japanese steel cutting core at 62+ R. The take-away: It's sharp as hell, and will last for years.
If you feel more comfortable with a classic chef's knife in your hand, this option from Wusthof is an excellent choice. The high-carbon steel knife is well balanced and sharp, with a handle that feels great in-hand.
This article was originally published on