This Ride-On Pony Gallops, Dances, and Plays with Your Kid
Scout has a lot of tricks up its hooves.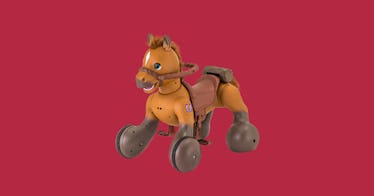 Kids love ponies. They also love Power Wheels. So, instead of making another a rideable imitation of a Jeep or Mercedes, Kid Trax decided to make what is ostensibly an intelligent, line of ride-on animal-Power Wheel hybrids called Rideamals. The first product in the Rideamals line, Scout, is a horse that incorporates aspects of interactive, electronic pets to create a new kind of play experience for kids.
Scout has a plastic exterior with a saddle, mane, tail and four rubber-covered wheels where a real horse's hooves would be. It weighs 48 pounds and its three-plus foot long frame can support a rider weighing up to 70 pounds, specs well-suited to the three to seven year olds it's recommended for. It has more than 100 different sound and movement combinations that kids experience in six different play modes: walk, brush, feed, pet, ride, and dance. Yeah, it dances.
In terms of riding, a switch lets kids choose between a four mile per hour "gallop," three and a half mile per hour "trot" or, in a nod to convenience and not to realistic horse abilities, a slow reverse mode.
That, beyond a few bells and whistles like a horn or stereo system, is where the play experience with most ride-on toys ends. What sets Scout apart from the competitors are those five other ways kids can play with it.
Pulling the reins in front of Scout's head activates walk mode so kids can lead Scout around. They can brush Scout's mane and "feed" it by placing a plastic carrot or apple (also included) near its mouth to her sounds of excitement and contentment. These accessories fit into an included saddlebag because of course they do.
Scout has fully motorized eyes, ears, and head that help it emote with more than 100 unique sounds and movements. The toy also responds to petting of its nose and face, and will even dance with your kids, somewhat bizarrely.
Scout is powered by a 12-volt battery that easily recharges using an included cable. Not included: a barn, tent, and pony show accessory kit you can buy if your kids really want to pamper their robot horse.
This article was originally published on