Ju-Ju-Be Unveils First Line of Diaper Bags for Dads
When not pulling diaper duty, the XY Collection is cool enough for the office.
by Dave Baldwin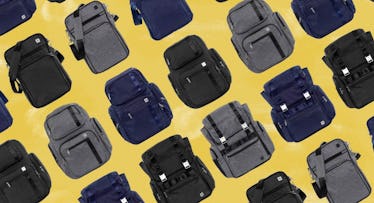 For the past 12 years, California-based Ju-Ju-Be has built a name selling eco-friendly diaper bags to stylish moms. Popular backpacks and totes that, despite their utility, are emblazoned with festive prints (lobsters, flowers, Hello Kitty) unlikely to be embraced by dads anytime soon. Even the single "dad bag" in the company's catalog, the Helix Chrome Messenger, has something of a man purse-ish aesthetic to it.
But with the market for dad diaper bags booming and new companies like Kinbuilt, Paperclip, and Tactical Baby Gear offering dads more masculine alternatives, Ju-Ju-Be realized it was missing a golden opportunity. As of next week, the company finally gets into the action with its inaugural line of diaper bags for guys: the Ju-Ju-Be XY Collection.
Billed as both "rugged and finely tailored," the Ju-Ju-Be XY Collection features five different styles that include three backpacks, a duffel bag, and a messenger. All are machine washable, boast stain-resistant fabrics that shed water, and come with plenty of pockets to keep the diaper cream away from the baby formula. All are available in one of three colors: carbon black, dark blue, or gray. And all are versatile enough to take to work when they're not pulling diaper duty.
The Hatch ($160) is a top-loading backpack with an ergonomic shoulder harness, zippered water bottles, and fast-closing magnetic latches; the Base ($80) rocks a lightweight changing pad and insulated bottle pocket, not to mention quick access zipper; and the Vector ($135) has a padded back panel and soft wicking mesh, upgraded changing pad, and extra tall bottle pockets.
The Clone duffel, meanwhile, is dubbed a more "dad-friendly" version of Ju-Ju-Be's uber-popular BFF ⏤ it includes a memory foam changing pad, brushed fabric cell phone pocket, and gusseted external bottle pockets ⏤ while the messenger is actually the aforementioned Helix. Okay, so maybe it's not a man purse, after all, although it is smaller than a standard messenger bag. It's ideal for toting both a MacBook Air and a WaterWow!
All five bags in the XY Collection come with Ju-Ju-Be's standard lifetime warranty and officially go on sale Tuesday, August 15.
This article was originally published on