Is The Apple HomePod a Speaker or the Trojan Horse of Family Computing?
Apple finally unveils its competitor to the Amazon Echo and Google Home.
by Dave Baldwin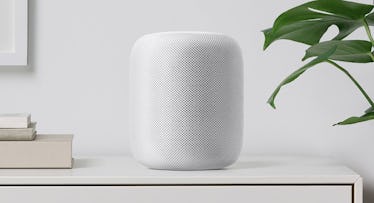 Yesterday Apple debuted the HomePod, a high-end speaker meets smart hub assistant. And while it's clear the company is late to the party, the question remains, which party? Smart home hubs or speakers? Or … rather than being late, is Apple about to throw its own soirée?
You have to wonder, what's the company's real intent with the HomePod? Play catch up to Amazon Echo, Google Home, and Sonos: Play ⏤ all of which have been a big hit with consumers ⏤ or lay the foundation for some bigger technology down the road, similar to how they used the iPod to prep the masses for the iPhone?
As with most things Apple, it's tough to tell; at least right now. Few details were released at the 2017 Worldwide Developers Conference announcement beyond a flashy video that showcased tech specs and basic functionality. While more will certainly become known before the HomePod hits the Apple store in December, we did learn one thing: Apple is pitching HomePod hard as a luxury high-def speaker. Which makes sense, considering the company's history as music pioneer, but is not horribly exciting. The $350 price tag does hammer that point home; it's more expensive than any Bluetooth speaker or smart hub competitor on the market.
HomePod is the company's first new hardware release since the Apple Watch debuted in April 2015. It's billed as a "powerful," seven-inch-tall (5.5-pound) speaker with a four-inch woofer and seven tweeters for "consistent 360-degree audio." Where it claims to stand apart is with its "spatial awareness" technology, which allows HomePod to read the room and adjust the sound (and presumably its jokes) accordingly. Not only that, but an advanced algorithm will also "continuously analyze the music and dynamically tune the low frequencies for smooth, distortion‑free sound." Al Jarreau will never sound so smooth. The only catch, it (not surprisingly) only supports Apple Music. So while users will have access to 40 million songs, nobody's queuing up their favorite Spotify playlist at your totally original ugly sweater holiday party.
As a smart hub, you use HomePod much as you would Siri on your phone ⏤ just fire those questions at it. There are six integrated microphones to ensure she can hear you clearly from anywhere in the room. In addition to addressing all of your weather, news, life questions ⏤ you'll know she's listening because the LED waveform on the top lights up when you speak ⏤ HomePod can also control all your smart home/HomeKit lights, window shades, and oven knobs, etc. The name does make sense.
While all of this sounds lovely, it still brings us back to the original question: What's the deal here? It's odd to watch Apple play the catch-up game, but it's also difficult to see from yesterday's demo how HomePod is anything currently more than an expensive speaker that answers questions and turns on lights. And by charging $350 bucks, the company's unlikely to get enough people willing to pay for design to really cut into Amazon or Google's market share.
Then again, why should Apple jump into the personal assistant market anyway? What do they have to gain? There's no warehouse full of products to sell like Amazon, or personal data to collect like Google. Smart home devices, while continuing to grow in popularity, are far from ubiquitous and still years away from finding life in every home. Although maybe IKEAs new cheap smart home lighting system will accelerate that ball's roll.
Apple's expertise is in music and phones, so we'd be remiss not to think a camera, screen, and even integration with Apple TV are on the way in next-gen releases. It's hard to see how Apple cedes the eventual video phone market to Amazon without a fight. But what's coming next? And are they planning to eventually integrate some new technology into HomePod that makes it not only a must-have in every household but one on which you're willing glad to drop nearly four Benjamins? Is the HomePod poised to be the precursor to something bigger, an iPod to the iPhone? Who knows. But when Apple's involved, you never know what's in the works.
This article was originally published on