It's International Coffee Day: This $6 Coffee Maker Brews the Best Cup of Coffee, Period.
Don't celebrate coffee with a fancy machine you don't need—spend on better beans you absolutely need.
by Sal Vaglica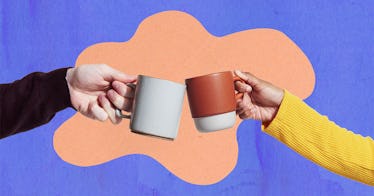 While most parents don't need a calendar invite to celebrate a cup of joe, October 1 is International Coffee Day—so let's talk java. In the early days of the pandemic you were forced to make coffee at home because everything from quirky neighborhood cafes to the big chain shops closed. And now, especially if you're working from home, you should invest in making coffee in your kitchen. It's basically like starting a 529. Compared to making coffee at home, some estimates have it costing you about $800 annually to buy two Grande-sized coffees per day. Take some of that money and invest it in whole beans and grind them at home. It's the single biggest impact on the flavor of your cup of coffee. Maybe buy an inexpensive, but accurate, digital scale if you want to get technical. And some way to heat and pour water, like an electric kettle.
The point is you don't need some fancy automatic drip coffee maker that is difficult to program and hogs up counter space. It's hard to beat the simplicity of a pour-over cone that rests on your mug. They are cheap, easy to use, clean up in the dishwasher, and maybe even more importantly, they almost force you to brew coffee one cup at a time so you're always drinking fresh java.
Every product on Fatherly is independently selected by our editors, writers, and experts. If you click a link on our site and buy something, we may earn an affiliate commission.