This $60 Hook-On High Chair Is the Best Damn Seat in My House
Not only does it save space but easily fits in your checked luggage.
by Dave Baldwin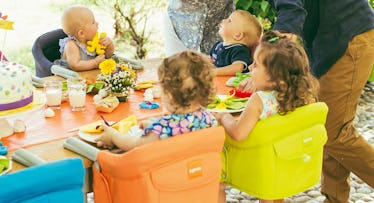 Inglesina
My wife and I never opened the high chair we got from our baby registry. It sat boxed in a corner of the kitchen for months after our daughter was born until one day we finally decided to return it. Admittedly, I still don't remember which one we received, just that we didn't need it. Why? Because a friend handed down her Inglesina Fast Table Hook-On Chair, a portable, padded seat which slots onto nearly any table using a system of simple couplings. It's comfortable. It folds flat for storage and travel. And it safely secures my daughter to the head of the table in a way that makes her look like a tiny dinner host, which is pretty damn cute.
It's now two years later and the Inglesina Fast Table still hangs from our table. Our daughter continues to enjoy sitting in it, even though she's probably ready to graduate to a booster seat, and I assume will do so until she outweighs the 37-pound (3-year) limit and tips the whole damn thing over.
The Inglesina isn't new or anything ⏤ it's been around for years, as far as I know ⏤ but it was new to me as first-time dad. We don't necessarily have a small home, but I liked the fact that it saved space and I didn't need to wheel it over from the corner at every meal. It's got a small footprint (14-inches by 17-inches by 11-inches) and easily tucks away in the closet if you're having guests over for dinner, guests who will undoubtedly comment about how they want an adult version of the seat. Plus, as long as your table/countertop isn't made of a ridiculously thick mahogany or granite (more than 3.5-inches), you shouldn't have any problem securing the two scratch-free couplings ⏤ it just takes a few minutes of twisting.
The biggest sell, however, is that the Inglesina works well for both everyday use and as a travel high chair, all in one. At no extra cost. And at 4.2 pounds, we don't hesitate to toss it in the trunk or our checked luggage. Oh, and it only costs $60, far below any of the feature-packed high chairs by which you'll be tempted.
Of course, it ain't perfect. In fact, one the Inglesina Fast Table strongest attributes ⏤ that it lets your child sit high at the table almost like a grown-up ⏤ is also a bit of a negative. There's a gap between child and plate that attracts food like a Death Star tractor beam. Food which then lands on the 3-point safety harness, their legs, and the floor. Apparently, newer models remedy this problem with an attachable tray (genius) but we don't own it. Instead, I conclude every meal by wiping up the hardwood. That tray actually solves another problem the chair has: food and liquid get trapped under the attached handles. Which leaves two options, unscrew them daily to wipe the table down (no thank you) or let it build up and clean periodically ⏤ while no doubt commenting under your breath about how disgusting your family is.
And finally, because the Inglesina Fast Table is made of a fabric and not a smooth wood or plastic, the thing gets griiiiiimy. Imagine a kid using their high chair like a napkin and wiping their peanut-butter covered hands all over it every time they eat. That's what happens in our house. It gets caked up fast, to say the least. And while it's relatively easy to wipe down, it doesn't get nearly as clean as a traditional chair. Inglesina doesn't recommend putting the fabric in the washing machine, but you should. We do and it works great. And in the end, it comes out looking as brand new as if sat in the box in your kitchen for a year. A box you most certainly don't want to return.
This article was originally published on