How to Make a Truly Kickass Bubble Bath
Sure, you can buy it at the store. But for a little foamy arts-and-crafts project at home, try this.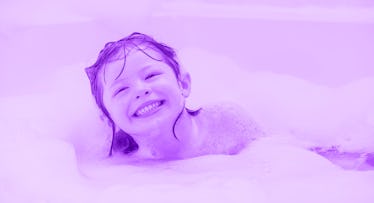 Bath time is a place to unwind, relax, and get clean. It's also a place where you put a lot of things — lotions, soaps, and oils — on your kid's skin. Do you know what's in your bottle? One way to be completely and utterly sure is to make your own soap — starting with the bubble. This recipe is sudsy, safe, and gentle on the skin. Here's how to make a bubble bath. Once you have your final product, it's time to learn how to make giant bubbles in the tub.
What You'll Need:
½ cup liquid body wash
2 tablespoons tablespoon honey
2 tablespoons almond oil
1 egg white
Instructions:
Mix all ingredients together in a clean quart-size container.
Pour into desired jar or bottle and seal until use.
The almond oil helps lubricate dry skin, while the honey helps lock the moisture in.
Egg whites are key because they add thickness to the bubbles for a nice, foamy bath experience.
The amounts here are somewhat flexible: If you prefer a more moisturizing soak, add extra almond oil. If you are seeking bigger suds, add another egg white.
Also, kids love color, so entice your little one into the bath by adding a few drops of non-permanent dye to your concoction. (Check the label to make sure it's stain-free!)
And for an even-more-from-scratch version, you can swap the liquid cleanser for 1/4 cup Castile Soap (try Dr. Bronner's Baby Unscented Pure Castile Soap) plus 1/4 cup glycerin (try Aura Cacia Organic Vegetable Glycerin).
This article was originally published on