How to Stop Chafing Once and For All
What you need to keep your skin from rubbing you the wrong way during a workout.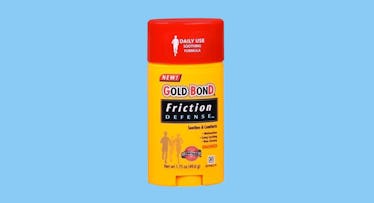 Chafing really rubs a lot of people the wrong way. Har har. Dumb jokes aside, nothing ruins a workout or morning run quite like the hot sting of a rubbed-raw inner thigh or nether region. It burns, oh does it burn. Short of setting your gym shorts on fire or swearing off running altogether, what can do you?
As fortune favors the prepared, it's important to know the cause of chafing: friction. So to avoid getting rubbed raw, one must fight both friction and moisture. There are plenty of anti-chafe products out there designed to do this — and heal already-chafed skin. But, with lists of ingredients longer than your rash scab, it's hard to know which are worth introducing to your thighs. That's why we reached out to Dr. Cynthia Bailey, a California-based dermatologist. Bailey recommended a squadron of anti-chafing products she trusts to prevent and treat chafing. Take a look — and never feel the burn again.
Gold Bond Friction Defense
With ingredients such as aloe vera (skin soother), ginger (skin rejuvenator), and chamomile extract (skin healer), this roll-on is an excellent ally. It's residue-free, glide on applicator is cleaner than most gels and creams and, in addition to all the previous ingredients, it also contains capric triglyceride. "Caprylic, or capric, triglyceride is listed as the first ingredient, which gives this product a light, silky feel on the skin, and reduces friction from both skin and fabric without a greasy feel," says Dr. Bailey. The stick's moisturizing properties also aid in rapid healing for areas that have already rubbed raw.
Rocket Pure Friction Therapy Balm Stick
Made from 100 percent natural ingredients, this anti-chafe stick contains tea tree oil, which has antifungal and antibacterial properties that also treats minor cuts, scrapes and other abrasions. Beeswax and grape seed oil are the main ingredients, which Bailey says both help reduce friction while moisturizing the skin. A minor warning, per Bailey is that this product does contain peppermint. "Like the tea tree oil, peppermint, can potentially cause allergic rashes in people who are sensitive to it, so you'll want to avoid putting it on skin folds, or potentially vulnerable skin."
Ruby's Lube
Featuring only five ingredients – olive oil, beeswax, lemongrass, calendula, and benzoin – this sexy sounding product is one of the most basic-yet-effective on the market. "The beeswax and olive oil are great barriers against chafing," says Dr. Bailey. "The other three ingredients work well together, but I've seen rashes caused by calendula and benzoin. So just make sure you don't have allergies to either of them before applying." Fun Fact: This product was created by 7-time Ironman Champion (and a man who undoubtedly understands chafing) Chris McDonald, and is manufactured in a small artisan workshop in Denver, CO.
Gurney Goo
Because it effectively waterproofs your skin, you can use Gurney Goo to keep your feet dry, and your thighs, armpits, and nethers from getting too swampy. "This one contains cyclomethicone, which is very effective for reducing friction and, therefore, chafing," says Bailey. "The petrolatum is effective, too, but can be greasy." This Goo also features anti-blistering properties, which allow you to apply it to "hot spots" and stop painful blisters before they start.
Happy Sacs
One of the main causes of chafing is, let's face it, a clingy scrotum. Now you can keep yours in check with this preventative pouch that keeps your balls cool and comfy. "These are brilliant," says Dr. Bailey. "I always recommend using breathable fabric to separate skin folds and prevent intertrigo – the rash that occurs due to sweat and irritation." Baiiley adds that you certainly need to keep these clean by washing them with hypoallergenic soap, and toss 'em when the elastic gets too fragile. Sold it packs of three.
Fresh Balls
This talc-less formula dries into a silky-smooth powder so your nethers stay dry and friction-free. Unlike most deodorants and powders on the market, it's free of aluminum and parabens. "This product has a good ingredient list for a skin fold product. The top ingredients – Ethyl Macadamiate and Coco-Caprylate – spread like silicones, which results in a lighter feel. It also contains tapioca starch, which creates a nice, drying effect," says Bailey.