How LEGO Designed the New App-Controlled Batmobile™
Talking with the makers of the new App-Controlled LEGO® Batmobile about how they came up with this groundbreaking LEGO build.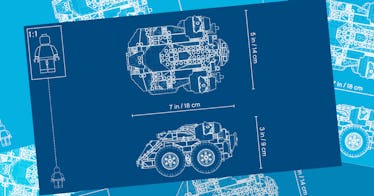 The following is brought to you by LEGO®, makers of the new App-Controlled Batmobile.
LEGO's new App-Controlled Batmobile is like three toys in one: A 321-piece LEGO vehicle, a smartphone-controlled car, and must-have Batman™ merchandise. Needless to say, this toy will be on many wishlists this holiday season. As your kid opens up their new LEGO App-Controlled Batmobile, we wanted to help parents to drop some knowledge about a toy that has been brewing in LEGO headquarters for years. For this, we spoke to Jesper C. Nielsen, the Design Manager behind the car, and Christopher Terrance Perron, the Designer of the toy, about the many iterations and trials they went through and how they made a standout Batmobile. Here are some cool facts about the design process to get your kids even more excited about one of the coolest toys out this year.
Fact #1: This is LEGO's First Smartphone-Controlled Vehicle
The LEGO designers say app-controlled LEGO sets are something they've had in mind since Bluetooth tech was developed. "The app-controlled vehicle is a pretty new idea," recalls Nielsen who has been with LEGO for 11 years. "We think an app-controlled vehicle gave us something that we can't get in a radio-controlled vehicle, because it gives you more of a Batman™ feel. We can put in more personality into the controls."
The car operates through two motors and is all powered through a Bluetooth-controlled battery hub. The toy is equipped with sounds, hand-activated shooters, a fully opening cockpit (big enough for Batman™ alone), Bat-brick designs and logos, and of course, an all new LEGO Batman™.
Fact #2: You Can Build This as a Static Car Too
If you want to build it, but don't want to drive it, the team at LEGO says you can rebuild the car to remove the internal machinery to make it a basic non-controllable car. Perhaps a dining table centerpiece?
Fact #3: This Is a One-of-a-Kind Batmobile Design
"We considered other Batmobiles, of course," says Nielsen. "Which ones, I don't want to tell you." Indeed, once the internal hardware was figured out, LEGO ditched the designs from the Batman™ franchise archives and went with their own. As Nielsen says, the footprint of the vehicle is what created its unique look.
Fact #4: The Wheelbase Is Tight for a Reason
With two engine motors, wires, and a battery pack, the designers put in a lot of creative thinking into the setup. This includes the wheels which are unusually close together. This is a functional decision. "We thought, 'How can we hide and design the battery box and integrate it into the design?'" says Perron. "'How can we make it look armored, and cool and still have that Batman™ aesthetic?' We took a lot of influence from a lot of different Batmobile designs but we're not taking any one in particular. We're making things together to fit the frame, and of course thinking about mobility."
Fact #5: The App-Controlled Batmobile Was Built to Drive Like a Tank
Just as the two engines — one each to control either side of the car — had to determine the look of the car, it was also created to give kids a unique driving experience. The result is a vehicle that can achieve "tank steering"; meaning it can turn with no space at all. Plus, having all of the wheels connected to a motor means the vehicle will never lag on speed even if there is an obstacle in its way.
"We had a series of ramps and surfaces made out of books on the floor on top of other books and stuff like that," says Perron. "I tested it by seeing how it would maneuver on that. What's interesting is since all four wheels are connected to an engine at any given time, when you're climbing something and say one wheel gets off the ground, it will still have enough power to push itself with the other wheels."
Fact #6: The App-Controlled Batmobile Was Crash-Tested
Inevitably someone will drive this toy into something with such force that some parts will fly off. So what exactly did LEGO do to figure out the mechanics of bricks flying off the toy? They crash-tested it. "We tried to make it as stable as possible without sacrificing the aesthetic," says Perron. "It was a lot of testing, a lot of crashing, and seeing what would happen and when they would break and if it was going to ruin the experience. We want kids to be able to create this, take it apart, and create whatever they want and to not lock-in the bricks."
That means that, yes, some bricks may fly off during those high-speed chases. But it's built for that: You can easily snap the bricks back on and get right back to the action. Perron says he personally went through 20 different builds of the Batmobile to hone in on the right model. "At first it was long brush strokes, but the closer I got to the final, it was one or two changes. It was just a matter of going through the fine details" he says.
Fact #7: The Designers Want to Do It All Again (But With What Vehicle?)
With all of the partners LEGO has, it's natural to assume they'll either adopt another specific Batmobile to their new App-Controlled family or perhaps adopt another franchise, like, say, Luke Skywalker's Landspeeder (hint hint). But LEGO is dodging the specifics.
"You can speculate on what's next, or what this [vehicle] would have been if it wasn't the Batmobile, but again, I'll leave that up to speculation," says Nielsen, laughing. "Of course we would love to do something like this again." Time will tell what's next for the App-Controlled LEGO bricks.
© & TM DC Comics. (s18)
© & TM The LEGO Group.
This article was originally published on