Holiday Gifts: The 20 Best Kids Toys
From talking dolls and artificially-intelligent racing games to revivals of classics (Teddy Ruxpin!), these are the hottest toys of the season.
by Dave Baldwin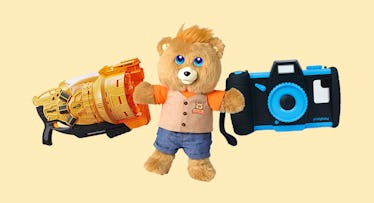 It's never been a better year for kids toys. Seriously. Advancements in technology and ingenuity have led to some of the most exciting versions of everything from talking dolls and super blasters to skills-building electronics kits to AI-infused racing games. Honestly, it feels weird to call so many of today's most exciting products "toys" because of how smart and game-changing they are. In any case, we combed through all of the options that are probably on the lists your kids are making and checking twice. From the season-favorite Fingerlings, Hatchimals, and Luvabella dolls, to the latest Nerf blaster, Lego sets, and battery-powered Star Wars ride-on ⏤ these are 20 of the best kids toys for holiday gifts. Happy shopping.
This kid-sized version of the Luke Skywalker's X-34 Landspeeder seats two, can hit a top speed of 5 mph, and even goes in reverse ⏤ just in case Junior's Jedi-mind trick fails and he's forced to back away from the Storm Troopers. The X-34 also has an interactive dashboard with buttons that light up and even plays sound effects from Star Wars: A New Hope. It's a great holiday gift.
The beauty of Pixlplay, a colorful plastic case that turns your smartphone into a kid-friendly camera, is that it solves two problems at once. First, what to do with that old iPhone sitting in the desk drawer; second, how do I introduce my kids to screens without turning them into zombies? With Pixlplay, simply pop it in and send them out to become the next Ansel Adams. It's got a working shutter button, an easy-to-hold rubber grip, and clicking focus/film advance knobs that don't actually work but, hey, your kids don't need to know that. The kids toy also comes with activity cards and scavenger hunts designed to get them off the couch and out learning about photography.
As if Anki's battling robot race cars weren't fast or furious enough, Anki Overdrive: Fast & Furious Edition brings the movie franchise's cars, characters (Dom, Hobbs, Letty, and Ludicrous), voices, and storylines to track. Racers still use their smartphones to steer the cars around a magnetic track while doing virtual battle (using customized weapons) within a video game on the app, but now they're driving the Rock's iconic armor-plated blue camo International MXT and Dom's speedy gunmetal Ice Charger.
Fingerlings from WowWee are charming robot monkeys that latch on to kids' fingers and get excited when their little heads are rubbed. Interactive, brightly colored, and collectible, they come in six different-colored characters (Zoe, Mia, Finn, Boris, Bella, Sophie), each with fun-fact backstory. For example, Boris likes to laugh and Mia has an insatiable curiosity. You get the idea. It's a fantastic kids toy, and the perfect holiday gift.
Lego wants to give your kid a leg up on getting into a fancy engineering school. Lego Boost is their set of Bluetooth-enabled smart bricks that lets you build and program robots and other functioning models using motors, sensors, and an interactive coding app. Make a talking robot. A guitar. A space rover. A pet cat (what?). And even an automated production line that builds … more LEGO toys. The creative kids toy comes with over 840 pieces, but it's totally compatible with the other hundreds of bricks currently lying around your living room.
Teddy Ruxpin
It may not be one of the most valuable toys from the 1980s, but this talking animatronic bear was pretty revolutionary for its day. And now it's back with 2017 technology. So not only does storytelling Teddy come pre-loaded with three stories and seven songs (45-minutes to occupy your kids), but his color "magical" LCD eyes react in "fun and surprising ways" and he has expressions and animations that match his emotional state. It makes a great holiday gift.
Part of Nerf's post-apocalyptic series, the Judge blaster is a manual slide-action shotgun with a massive 30-dart barrel drum that looks like something a character in Halo would shoot. Cooler still, the darts fire in sets of threes. Which means 10 shots and a much higher chance of actually hitting the target, even if your not using Nerf's more precise AccuStrike darts.
Trying to convey the full scope of TOMY/Play Fusion's new digital-meets-reality, role-playing game in one paragraph is tough, so here are a few abbreviated takeaways. One, the 'smart' action figures have built-in computers, can talk/vibrate, and interact with the video game on your tablet or smartphone ⏤ put a weapon in the figure's hand, it shows up on screen. Two, the kids toys can actually be used as controllers to play other on-screen games. And three, there's a 365-card, stand-alone physical game that doesn't require your tablet at all but can be incorporated into the video game using augmented reality.
Tied to this summer's Cars 3 release, Ultimate Lightning McQueen from Sphero (the same outfit that brought you BB-8 and R2-D2) is a smiling, speaking, smartphone-controlled race car. It features an LCD screen in the windshield that makes McQueen's anthropomorphized animated eyes not only appear but act expressively, a light sensor that automatically turns on the high beams when it gets dark, and six motors — some of which power the car to speeds upwards of 6 mph. Sphero's also loaded the car with over 300 different phrases. We can't think of a better holiday gift.
Nintendo Switch
One of several Nintendo systems to drop this year (the NES Classic and Mini SNES Classic, being the other two), the beauty of the Switch is that it converts from home console to portable system on the fly — simply pop it out of the dock and slide on the two controllers. Bam! Ready for the car. In terms, it plays a retooled The Legend of Zelda, FIFA 18, and Super Mario Odyssey among others.
Spin Master's Luvabella is a mildly creepy animatronic baby that uses artificial intelligence to speak, drink, and demonstrate how real/awkward it can be using "true-to-life facial expressions and movements." Luvabella laughs when she's tickled, drinks from a bottle, and can play Peek-a-Boo. Like a real baby, she also starts out talking nonsense but can quickly learn up to 100 words the more you interact with her. Feed her and she eats, give her a blanket and she plays, leave her on the couch and she'll probably just take a nap while watching the football game. She comes with four interactive accessories: a spoon, bottle, pacifier, and Lamby blanket, and she has dedicated movements with each.
Recoil
Skyrocket Toys' Recoil uses a heavy-duty portable WiFi hub to create a private, 500-foot GPS-enabled battlefield anywhere in the neighborhood ⏤ essentially turning the yard into a real-life video game. Players then carry blasters mounted with smartphones synced to the network; their positions are tracked (using Bluetooth, WiFi, and GPS) and combat is recorded on screen, so just like in a video game, players will see their missions, health, ammo, accuracy, and other player's locations on the radar. When they're killed, they have to return to a specific location on the battlefield (and the game will know if they do or not) before they can respawn.
Rather than roll around and perform tricks like BB-8, Sphero's Spiderman is more of a sedentary storyteller. It stands on the table, answers questions, plays games, and regales your kids with tales of superhero adventures taken from almost 100 comic books ⏤ even turning storytime into a choose-your-own-adventure by asking kids questions along the way to help direct the action. Think of it as a modified Google Home or Amazon Alexa trapped in a rubber Spider-Man suit. The animated eyes are built-in LCDs, he has a series of signature eye-rolls, and he can sense when he's being picked up and tossed around. The kids toy also has an internal motion sensor and will start yelling if anybody walks in the room.
From the folks behind two of the best music party games ever, Guitar Hero and Rock Band, DropMix is essentially a party card game that uses a digital music board and a free smartphone app to let players square off in the proverbial DJ booth. The game comes with 60 RFID chip-embedded music cards, each features a popular musician/song and one aspect of the song: base, drums, loop, strings, vocals. They're also emblazoned with some pretty sweet artwork reminiscent of an old-school album cover. Players compete against one another or together by dropping cards on the board to mix tracks and earn points. Everybody dances — which makes it an awesome holiday gift.
FurReal Roarin' Tyler the Playful Tiger
Another in Hasbro's popular class of interactive animal toys, the FurReal Roarin' Tyler the Playful Tiger boasts all the usual sounds and motions when you pet, touch, or feed it (over 100, in fact), is super soft and huggable, and even bows when he roars. Yep, fur real.
Hot Wheels Super Ultimate Garage
The newest Hot Wheels play set not only stands three-feet tall (it's the biggest garage yet) and holds 143 cars (four of which are included, as is a jet plane), but it also rocks a 23-car motorized elevator that would make Jay Leno jealous and a side-by-side-racetrack that spirals to the bottom. Also, King Kong is climbing up the side.
littleBits Star Wars R2-D2 Droid Inventor Kit
If your kids enjoy inventing things using LittleBits' electronic building kits full of buttons, triggers, switches, wires, batteries, motors, and LEDs, then good Lord, you imagine how much they're going to love building their own R2-D2. The lastest Droid Inventor Kit provides step-by-step instructions for them to create a moving, talking and beeping custom Artoo, which can then be controlled via a smartphone. The $100 kit also has adventures for them and their droid to explore together.
The Hatchimal Surprise Egg is just like last year's must-battle-for holiday toy, only super-sized. And that's because instead of getting one stuffed robot bird that literally pecked its way out of a plastic shell, you get two this time ⏤ either a pair of identical or fraternal twins from the family's new species of Giravens and Peacats. Otherwise, same deal. They still grow through three life stages (baby, toddler, and kids) and react when you pat their heads or press their noses. There is, however, a toddler dance mode and both twins will even play games together.
Nickelodeon Slime Neon and Glow Slime Making Kit
Reminisce fondly on your days watching Nickelodeon's You Can't Do That On Television as you and the kids make neon glowing slime with this inexpensive Cra-Z-Art kit. Everything you need is included, and it even claims to teach valuable STEM skills ⏤ but "I don't know."
LOL Big Surprise
One of those crazy popular toys that parents already can't seem to get their hands on, it's essentially a big ball with 50 toys inside, each individually packaged in a smaller ball. Yes, talk about an exercise in frustration. Most of the toys inside are small dolls and accessories. Frustrating gimmick, no doubt, but once the kids decide they want something (oh hello, fidget spinners), buckle up.