Best Hot Wheels Tracks
It's fun to collect Hot Wheels. It's even more fun to make them do jumps, stunts, and crashes on this awesome track set.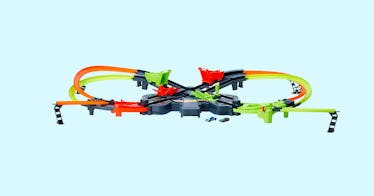 The words "colossal" and "crash" just feel like they belong on a Hot Wheels set, and the venerable toy car (and toy car track) company is happy to oblige with one of the cooler track sets we've seen.
The Hot Wheels Colossal Crash Track Set is definitely colossal;at over five feet wide, it's the biggest boosted set the company has ever made. And it's definitely made for crashing, as the double figure-eight design means plenty of opportunities for the two included cars—and let's face it, the dozens your kid probably already has—to ram into each other.
We're also big fans of the dual starting gates that make it easy to launch cars into both the red and green tracks, which intersect in something of a crash zone in the center. That's also where the motorized elements comes into play, spinning wheels that whisk cars along without the aid of gravity (but with the aid of six AA batteries).
The center zone is also home to levers that allow kids to decide whether or not to jump, potentially avoiding a collision with an oncoming car, or stay on the track and lean into the melee.
And while it's definitely tons of fun on its own, the Colossal Crash is also a great kit because it connects seamlessly to other tracks so kids can create their own crazy tracks. Your kids can even bring it to their friends' houses to connect to their sets, as the whole thing folds up for easy transport (and storage, for when you want it out of the way).
So while the Colossal Crash Track Set certainly doesn't reinvent the wheel(s) like some of the company's other recent efforts, it's a more than solid take on a proven toy, a concept done well that handily fits with the other Hot Wheels cars and tracks your kid might already have.
Every product on Fatherly is independently selected by our editors, writers, and experts. If you click a link on our site and buy something, we may earn an affiliate commission.